19 March 2015
"If you want something done well, you have to do it yourself." It could be the mantra of the maker. Saturnino, consummate musician and producer, Jovanotti's bass player and the man who lays down the funky backbone of the Italian pop star's discs, wanted a pair of glasses that were well made, indeed very well made. And so, on the advice of his trusted optician on Piazza Virgilio, in Milan, he tried to make his own. Without donning the optician's white coat, but starting to think about the problem first as a collector, then as a craftsman, an aesthete and finally a manufacturer. One thing at a time and then everything at once, always keeping clearly in mind that creating means separating out a detail from a complex world and decoding it with the resources of ethics and culture. Out of this was born Saturnino Eye Wear, a line of glasses made up of eight different models, each inspired by a planet. Unique design, versatile lines and collector's materials, for accessories that are at once elegant and pop. Not to be missed.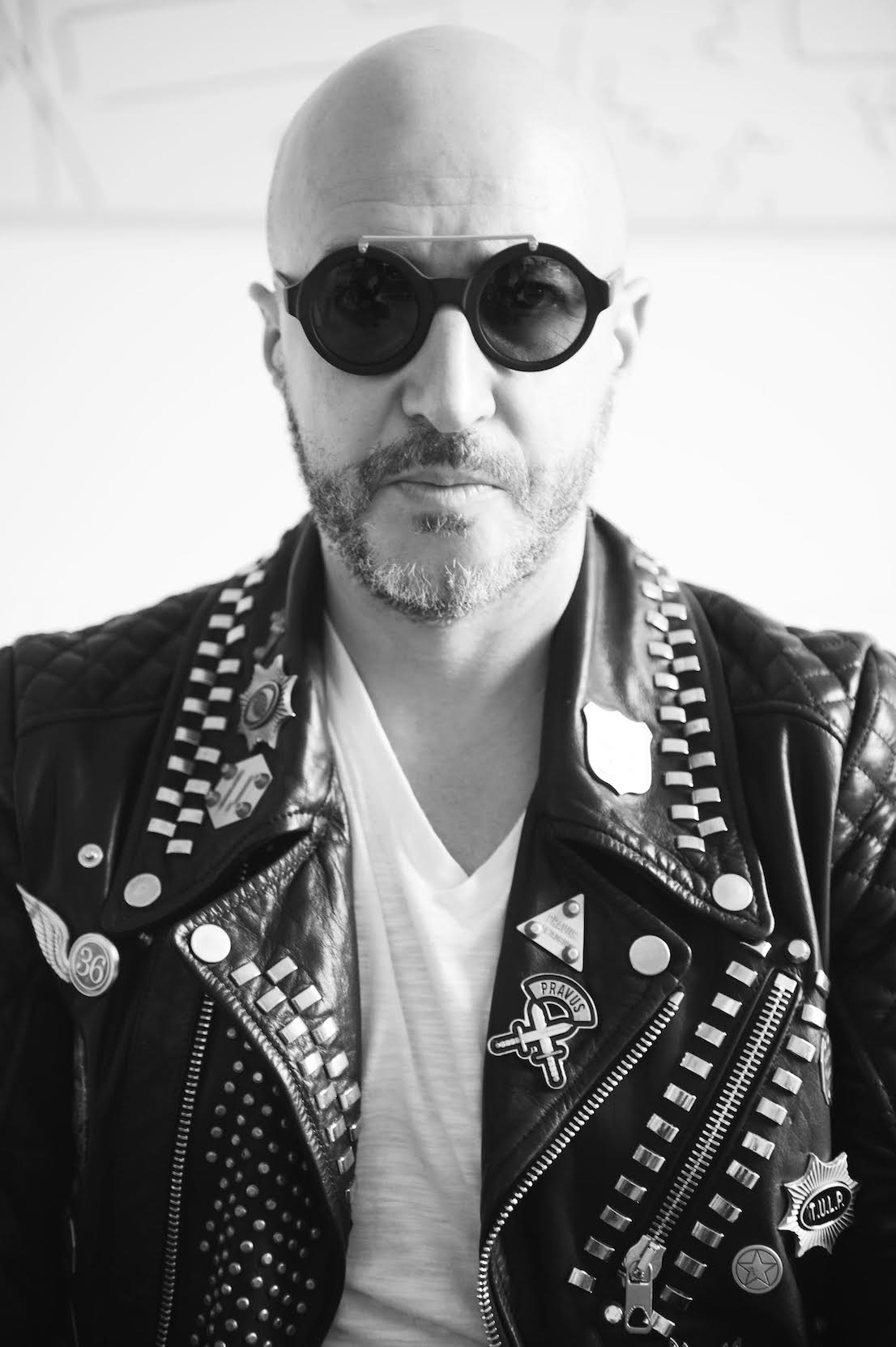 Chatting with Saturnino about his glasses, there's one thing we get straightaway: the line that he has come up with is the fruit of teamwork and a study carried out by rummaging through stores, international brands and social networks. There was no choice but to look around, after all: Saturnino is a musician, and about spectacles he knew as much as a simple enthusiast could know (he owns more than seventy pairs of them). This did not mean, however, that he was going to be intimidated by the learned white coats of opticians, who often work without paying any attention to the cultural significance of the object they sell or make. "Glasses need to become a handcrafted product again," declares Satu (that's what the Americans call him), stressing that the specific character of an object lies more in the way in which is made and less in the manner in which it makes itself recognizable (like the brand). Rather than through the quality of the workmanship, in fact, the majority of companies tend to impart value and identity to their lines of glasses by means of the brand. A mistake: for years now the market has been displaying a different, almost opposite tendency. Attachment to the label is old hat, it's more difficult to pull the wool over people's eyes now. Putting something on the market means dealing with well-informed, demanding, attentive customers, who know quality when they see it and don't care all that much about famous brands anymore. What they do care about are materials, supply chains, sourcing.
From demanding customer, Satu has turned himself into manufacturer. With audacity and the desire to enjoy himself. "After all, thanks to my very well-paid job, I have a lot of free time," he says. Lucky guy (you parents who stop your children from becoming musicians, believing that it's a one-way street to poverty: turn off the TV and switch on your brains. If you don't want to take the risk, at least let your children do it). From Piazza Virgilio then, Saturnino, smartphone in his hand and remembering that the greatest craftsmen of eyewear are Italian, French and Japanese, went in search of ours. The best place to look: the region of Cadore, in Veneto, where the Fratelli Lozza firm was founded in 1920. It was the first, in Italy, to have the bright idea of specializing in frames made entirely of celluloid, a fashion that had arrived from the United States. There he embarked on a thorough study of the materials, and grasped their differences—with the result that he is able to talk about them with the same ease as he has in telling you that one of the best bass lines in the history of music can be found in Good Times by the Chic.
"Celluloid has a particular feel to the touch, which changes depending on the thickness of the material. A thickness of six millimeters instead of eight makes all the difference," he tells us, describing how, in practice, SEW was born: in the first place, by reassembling the pieces of the only pair of glasses that Satu had tried to get his optician to repair. Immediately afterward came the team: the essence of professionalism lies in the capacity to collaborate, to share out the work on the basis of skills and aspirations. And so Saturnino 69 was born, made up of a sales manager, a president, a financial partner, the "product person," a press office and him, Saturnino, who creates the glasses in his head and then makes them with the aid of his team (who are all friends of his). Many people think that, banking on his name (an undeniable asset: Saturnino is an icon), he has limited himself to issuing a license, but it's not so: he has set up a real company. "The person with whom I shared the design side suggested we start with four models, half with a bridge and half without. Then I realized there ought to be eight, the number of planets, and everything came out of that." In fact, the eight models are called Jupiter, Earth, Mars, Neptune, Uranus, Mercury, Venus and Satu. The last of these was the first, let's say the prototype, the pilot of the new venture. Talking to the sound designer Matteo Ceccarini, Mr. Celani discovered that satu in Indonesian means one and so decided to go along with the coincidence.
He admits to not being a fatalist—and quotes Bob Marley, when he said that all you have to do to make up your mind is toss a coin—and believes in willpower, but is aware that we can't exercise control over everything: he, for example, doesn't miss a single horoscope in Internazionale magazine, believing that it's possible to read the stars and numbers. And yet he says "everything in my life is extemporaneous." He doesn't live one day at a time, but is able to pick up and take in unexpected signals, to connect up coincidences as if they were the dots in a puzzle. Notes have given him the nonchalance needed for this kind of approach: "music teaches you nothing, it's an ancestral language," he declares. That's how he sees life: something light, which doesn't mean either easy or careless, but nimble, reactive. The ability to take in and understand stimuli from the outside world, sometimes clouded by an excess of information, makes the difference: Saturnino is good at this, he has learned to pick and choose.
He's an ardent fan of Cutler and Gross, for him "one of the few independent brands of glasses," and of Oliver People, but draws his inspiration from other sectors too. "My operation is a bit like what Davide Oldani does with the cuisine at his restaurant in Cornaredo: excellent quality, affordable prices, pop style." Despite the careful choice of materials, the refined aesthetic research and the highly selective distribution (at present the glasses are on sale at just a few fashion stores, Antonioli, Excelsior in Milan, Vinicio in Legnano and Luisa Via Roma), SEW's prices remain reasonable: from 150 to 180 euros. Four variants of color and frame are available for each model. Sometimes, but not always, it is possible to discern an allusion to the planet after which each is named: Neptune tends to shades of blue, but Earth, one of the best, does not seem to have any connection with its name. But the game of parallels is above all one of elective affinities and it is fun to come up with a subjective interpretation, rather than a resemblance, as in abstract art. "The glasses are unisex," says Saturnino, explaining to us that the line of his "planet spectacles" is a versatile one. They look as good on women as they do on men.
After all, he is convinced that use makes function—and there's something to what he say, especially with regard to accessories. "There is nothing sexier than a woman wearing glasses," he tells us, while some clichés in support of this spring to mind, although it would not be politically correct to spell them out (but we would like to mention the secretary in Ghostbusters at least: without her glasses she wouldn't have had a tenth of her sex appeal). However, we did succeed in worming out of him that "Earth is actually a pair of glasses designed more for a female clientele, although I think Venus looks great on a woman too: the tear-shaped lenses are very sensual. The other day I posted on Instagram a photo of a girl wearing very similar spectacles: she was stunning, she looked like Yoko Ono." And here we come to a fundamental aspect of Saturnino's highly personal, almost home-grown, but certainly intelligent and functional approach to marketing: social networks, and Instagram in particular. By now it's clear that publicity campaigns for products work if they are able to reach people through social networking sites, picking the right hashtag and proposing something more articulate and gripping than the usual sort of advertising. Saturnino, for example, who is saturnino69 on Instagram, relies on authenticity. He publishes everything that he finds most interesting and striking on his public profile, telling the story of his life and thereby building up a loyal band of followers. They trust him, using the medium to get in direct contact with him (on Twitter, every now and then, Saturnino sets up an appointment with his fans and makes himself available to answer their questions: he swears he does it himself, without the mediation of assistants or the press office). A bit like Dolce&Gabbana do: "the secret is not to use filters or people will notice." In this too Saturnino is very skilled at seizing the moment and joining up reality and dream. Although the choice of the planets was an accidental one, a question about space was on the cards: there must have been something behind it, an interest, a fascination. And so it turns out: Saturnino has a very romantic attitude toward the mystery of the universe around us. "We are still stuck at Euclidean geometry, we haven't learnt to really consider the hypothesis of new forms, of a life that is different from our own, and yet out there, somewhere."
Did he like Interstellar? He hasn't seen it, says he's waiting for the DVD ("I'm one of the few people in the world who never downloads anything: I always buy the original"). For now the response of the public to Saturnino Eye Wear is excellent and growing constantly: he has many plans for the future: "I'd like to try my hand with wearable technology, but creating extremely practical accessories (in short, something really wearable, that improves people's lives in a simple and intuitive way: not like Google Glass)," adding that he also intends to diversify production of the glasses, creating one line for fashion stores and one reserved for opticians. Two new models, for one of which he has taken out a patent, are ready. Also in the pipeline is the idea of moving into the American and Japanese markets. So the motto seems to be "to infinity… and beyond!"