6 October 2016
He was no ordinary player, but one who really made a difference on the soccer pitch. And when a goal-scoring opportunity came rarely did he miss. Oldani, before becoming a pupil of Gualtiero Marchesi, Alain Ducasse and Albert Roux, had other aspirations. Before taking over a restaurant in Cornaredo and turning it into the D'O with a Michelin star; before creating what he calls cucina Pop and becoming its messiah; before being made the subject of a case study at Harvard; before winning the Ambrogino d'Oro award from the municipality of Milan in 2008; before writing a series of books and designing a series of plates, chairs and flatware: before anything else, Oldani dreamed of Italia '90 and becoming a member of the national team. He confesses this himself in the new restaurant that he opened last June at San Pietro all'Olmo, a hamlet of Cornaredo, just a few meters from the old one. The light that enters through the windows designed by Piero Lissoni gives the restaurant the intensity of a sacred place. The glazed entrance faces onto a small square with a large elm at its center, in front of the abbey church of San Pietro. Inside, a seventies-style lounge with Plastics Duo couches upholstered in blue velvet designed by Lissoni for Kartell and Ettore Sottsass's Pilastro stool, a kitchen range made by Marrone, Driade lamps by Lissoni and Philippe Starck and elm tables and chairs produced by Riva 1920.
"A multiple compound fracture," he recalls clearly. "But it was my fault. I was sixteen and disobeyed my father, who didn't want me to play games at school because I was already in Serie C2.1 In hospital, with a broken leg, he said just one thing to me: you were not intelligent enough. Devastating."
Sounds like a moral fable.
You know what? You should always listen to your parents.
I don't think so, disobeying is part of the game. Your daughter Camilla—two years old—will do it.
I'll be able to tell her I was nursing a dream.
Today you're here. Would you really have preferred to be a footballer?
That was the first dream and then I nursed a new one, a dream that has come true. My strength lies in believing in what I do, so I immediately devoted my energies to something, without wasting much time.
Is soccer still, as Pasolini claimed, the last sacred ritual of our time?
Perhaps it is. I've tried to get back into soccer. Every time I go to the stadium, my heart is blue-black and I'm a friend of the Moratti family.2 But it's more and more a topic of conversation at the bar, it's not something that touches me particularly. What does interest me instead is to talk about cooking combined with sport, and to talk about it with young people to persuade them to practice a discipline. Sport is the savior of the young. It is also why I am an ambassador for the Fondazione Laureus, a post they give to many athletes, whereas I'm the only cook.
How does your typical day go?
It starts early and finishes late. It's my habit to get up at 7 and to go to bed around 1:30. From 7 till midnight the whole world turns around the project called D'O.
Let's start at 7, the alarm clock goes off.
Not much breakfast in the morning, maybe a coffee around 9:30-10, not straightaway.
Why not straightaway?
Because my morning rituals don't require it. Once I've had my coffee, I sit down at the computer. I have five or six appointments, and knock off at 12 to serve at the D'O and start again at 3. At the moment the commitments have grown because we're opening a branch in Manila, in the Philippines, and one in Singapore.
The Far East.
We've been to Manila four times in the last three years. It's a rapidly growing metropolis. We are in front of the Stock Exchange, on the ground floor of a sixty-story building. It's a good location, everyone is there: Madrid Fusión, Cartier, Mercedes, Eataly, Grom. As is customary for D'O, we do everything in a discreet way.
Who goes with you when you're doing this kind of business?
My lawyer and my assistants. We are developing different sectors: D'O is the main business, for quality, excellence and passion, then there are the new brands like Food, the one under which we are opening in Manila and Singapore.
Where does all this come from? 
From the quality of our work.
Why do the chairs here, at the new D'O, have just one arm?
Because a great many people lean on just one side.
And the shelf under the seat?
It's a place to put personal things: your glasses, wallet, bags, cellphone. Very useful.
There's no tablecloth, why?
There's a circle of gray felt on which to place the plate. There's no tablecloth because I want to make the most of the artistic quality of this round table.
No head of the table.
No. And the table, too, is five centimeters higher than normal.
And the chair?
The same.
Why?
Because when you eat sitting down, the food remains in the stomach. To digest it you need to get up from the table. The best thing would be to eat standing up, but for some people that might not be very relaxing. So I've come up with a compromise: a higher table and chair.
Why not open the first restaurant with a Michelin star in the world where you eat standing up?
I'm not a revolutionary, I'm for evolution. It doesn't seem to me that revolutionaries, in other fields, have had much success.
But in the world there is a need for revolutionaries, every so often.
No, the world needs evolution, not revolution. Take the example of the higher table and chair: it's a soft response to the need to assume a position that favors more rapid digestion.
Everyone to his own trade. Why didn't designers, who've been working on chairs forever, get to this first?
I can only speak for myself. Everything I do stems from observation.
And what did you tell the designer Piero Lissoni?
Lissoni has a different view of things. For me the stomach should not be squashed and should stay straight. It's partly for this reason that etiquette tells us to sit straight. If you have respect for food, for yourself, for your digestion and for the people you are eating with, you sit erect.
Your secret, already revealed, is comprised in five words: love, education, enterprise, obedience and humility. I'm interested in the education.
Setting an example is the most profound form of teaching. When I was small my father always gave me explanations.
How do get a job at D'O, you send in the usual résumé?
It's very simple: you present yourself, starting with the résumé, and then you go through a whole process, made up of meetings and readings. We invite the young applicants to read all our books, so they can get a better understanding of the way we work.
Where do the majority of applications come from?
From all over Italy. Recently we have started to receive some requests from abroad, because D'O is expanding.
You have a lot to say about the group. Rizzoli has published your Pop. La nuova grande cucina italiana. D'O, ricette e gioco di squadra.3
Remember that I used to be a soccer player, and in soccer you don't win just because you have a good goalkeeper and striker. You win if you have a good team. It's the same here. I've gone back to everything I knew as a child: sport, activity, friends. I've taken them up and brought them into my natural environment, which is my work.
Are there many women in the kitchen?
Not many.
It's not a job for women?
It is. My mother was the home chef. The woman keeps the family together and has an edge because she's the one who gives birth and gives life. I've seen the strength of Evelina, my partner: she was sick for four months, I'd never have stood it. I come from a very tight-knit family, where my father was the boss and it seemed as if he was the only one who worked. But my family stayed strong and united because of my mother.
Along the lines of behind every great man there's a great woman.
I think that having the same rights doesn't mean being the same, we are naturally different. But all this needs to be explained properly and discussed with intelligent people, otherwise you run the risk of being misunderstood.
Your name is Davide Maria. Are you a believer?
I'm a non-practicing Catholic. I have moved closer to the church since my father died. The men of the church have always left me indifferent, and then three years ago Pope Francis came along and a whole world opened up for me. In our office there's a saying of Bergoglio's on the wall: "May I, thank you, pardon me." We ought to have a bit of faith in something.
What do you believe in?
In people, in their capacity to do good. I like to look people in the eyes and understand them. It's important to believe in your own ideas without tearing other people's apart. Ethics and respect are fundamental for me. I have faith in people, but I'm intransigent: if you let me down, I won't speak to you again.
Read quickly D'O seems to be the word Dio.4 Was this deliberate?
No. D'O comes from the verb dare, do, I give, in which a graphic designer friend of mine inserted an apostrophe. My world is in these two letters: Davide, the plate, the circular cooking we do. Of course, if you write it quickly the apostrophe gets elongated and it turns into Dio.
Before you mentioned etiquette. Are we going to revive it?
First it needs rewriting: a glass with a furrow in it for the nose, an inclined plate that you don't have to tilt, a higher chair. Everything we do here is for the good of the customer, who ought to feel perfectly at ease. We should be as convivial, democratic and practical as possible.
What kind of customer do your prefer?
A business venture has to be open to all. It's the people who choose whether to come to your restaurant, not the owner who decides what customers to have. In any case, the customers I like best are the ones who come back.
Old and new D'O. Let's talk about dishes. How has the cuisine changed? Has there been an evolution?
The evolution is momentous. The large kitchen we work in, very well fitted out, allows us a continual refinement, especially in terms of quality. We are constantly growing. The first fruits of the new approach will already be apparent in this fall's menus.
How do you make a reservation?
You just have to call and have a bit of patience because of our long waiting lists.
Your restaurant has been the subject of a case study at Harvard and in the economics courses of universities in Paris and Bologna.
My restaurant reflects my approach to life. The starting point is always respect for people: the ones who work with me and my customers.
Which way do you lean politically: to the right or left?
I'd say the center, but the issue is a different one. I would like politics to start out from doing things. We should reverse the process: first you do something and then you ask people to vote for you. I've done good things and people give me credit for them, so I can get up on the platform and ask for their vote. Only if you've done good things can you ask for the trust of electors. That's how I'd like it to be.
How has it gone with the people at TIM, who chose you a few months ago to endorse their business offers?
This is how it happened: at the World Business Forum, in November last year, I met someone from TIM who liked the way I work, my approach: he asked if I'd be interested in endorsing them. I thought it was a great idea and said yes, and then it all happened quickly, in a precise and well-organized way. They coupled me with a smart product, the cloud, which is perfect because to work I need space to devote to essential things. Being a brand ambassador for TIM is a great mark of recognition.
How was the experience of the Olympics in Rio, where you were acting as Sport & Food Ambassador of the Italian team?
It was a fantastic experience, working with young men and women ready to approach life with so much passion and readiness to sacrifice has been reinvigorating.
Food and sport are also the subjects of your latest book, which has just been published: D'O eat better. Ricette per lo sport. Who would you recommend it to?
All those who care about themselves, who love good food, exercise, sport.
When you talk this sort of wrinkle appears on your face, a sense of satisfaction. Not even for a moment have you looked gloomy.
We should never be gloomy in life. You don't look back, you go forward. We need to have the courage to take risks and evolve. Sometimes I dither a little, when I ought to be more radical and resolute. But when I do make up my mind, nothing else matters.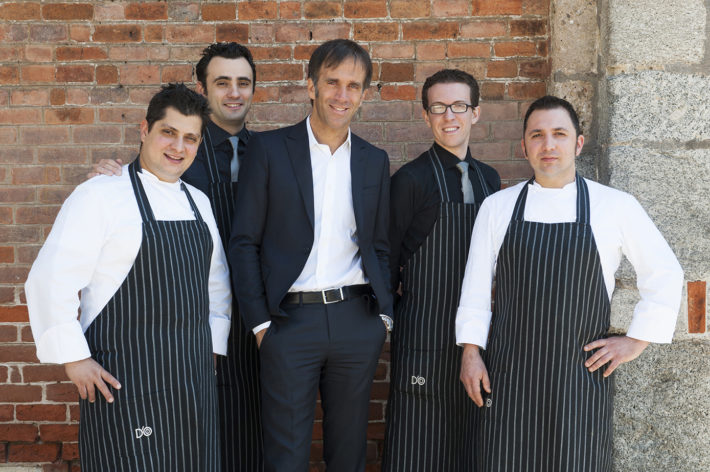 Note
1 The lowest rung of the professional soccer league in Italy.
2 The colors and former owners of Inter.
3 "Pop. The Great New Italian Cuisine: D'O, recipes and teamwork".
4 God.