Lamborghini
Huracán LP 610-4
Topics #001
(english text below)
Di / By Filippo Brunamonti
Huracán, come il nome di un mitico toro spagnolo rimasto imbattuto nella corrida di Alicante, nell'agosto del 1879. Il modello Lamborghini Huracán LP 610-4 è puro toro da combattimento a 4 ruote. Al Salone di Ginevra, lo scorso marzo, il suo radar ha scavato una nuova partitura nel sound delle automobili, grazie anche a un ciclo di 60 tappe promozionali e 130 eventi riservati a clienti dalle forti aspirazioni (li ha individuati l'amministratore delegato e presidente Stephan Winkelmann in persona). Nel video di lancio (One man, one car, one mission) fa capolino una tempesta su Oklahoma City, quasi fosse un misto di "fantascienza e lampi" scritto da Nigel Kneale. Un uomo a riposo nel suo loft riceve una telefonata. Il livello d'allarme, fuori, è alto: "You need to get out!" ("Devi andartene!"), gli intima una voce di donna dall'altra parte. Sarebbe difficile lasciare la City se non fosse per quella Coupé nemmeno troppo lontana da lì. Ed è a bordo dell'erede della Gallardo – supersportiva, filante, indomita, riadattata agli istinti selvatici dell'uomo – che l'avventura ha inizio. 

Lamborghini Huracán LP 610-4
Più che un toro della razza spagnola Conte de La Patilla, la Lamborghini Huracán LP 610-4 è un teatro di posa, una macchina d'attacco che squarcia l'asfalto. Il design targato Filippo Perini è quasi fuori controllo, vola sulle gomme: bordi appuntiti, volumi monolitici piuttosto scolpiti, muscolatura sovversiva. La colonna vertebrale che percorre ai lati la Huracán ha un tocco western, artificioso e animale al tempo stesso, mentre i finestrini in groppa chiudono il sistema esagonale della supercar. Una supercar da 201 mila euro, per inciso. Rimane l'identità cuneiforme, 2 porte, 2 posti, che impreziosisce tutte le Lambo, ma la sensazione, osservando le ruote e le fiancate, è che questo modello abbia un'energia molto più terrena rispetto ai prototipi passati, che la sua fedeltà al rettilineo o alla roccia sia una lotta armata e spietata come nelle opere di Sam Peckinpah. Su strada, i suoi slanci le fanno perdere forma, la confondono con l'aria. "Nel progettarla abbiamo usato un concetto semplice – ha spiegato alla stampa Winkelmann –, quello della tecnologia istintiva. Da una parte, come tutte le Lamborghini, è piena di innovazioni, dall'altra è una macchina che pare fatta su misura per ogni guidatore. Molto confortevole in città e sul misto, molto veloce e sicura in pista".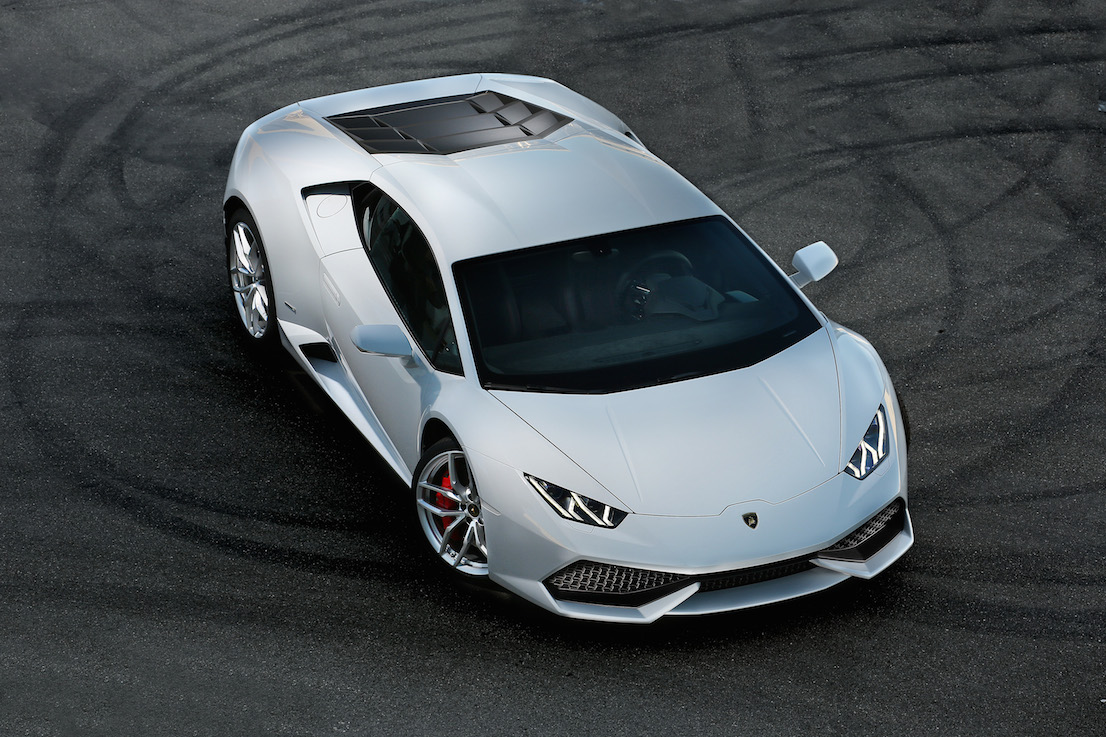 Lamborghini Huracán LP 610-4
Il cuore della Huracán LP 610-4 somiglia a una macchina da presa giroscopica, una steadycam da esterni. È il motore centrale aspirato V10, visibile ad occhio nudo dietro il posto di guida, con una potenza massima di 610 HP, coppia massima di 560 Nm, classe di emissioni Euro 6. Il telaio non ha limiti: per la prima volta abbiamo a che fare con un ibrido in alluminio e fibra di carbonio. Se a questo aggiungiamo anche la nuova trazione integrale, allora, per il guidatore, "l'istinto del futuro", frase di lancio del modello, assume una vita tutta sua, indipendente dalla percezione della realtà. Che ci sia cuore e che il colore fiammante trasmetta quel punto di vista mobile tipico delle Lamborghini, lo dimostra anche un pulsante (rosso) collocato sulla parte inferiore del volante, tramite cui è possibile selezionare tre posizioni differenti: strada, sport, corsa. I comandi elettronici che comunicano col motore rendono lo scafandro dell'auto una sorta di teletrasporto intraducibile: cambio a 7 rapporti con doppia frizione, sterzo e sospensioni, circuito idraulico a due vie con servofreno a depressione, pinze a sei pistoncini per la frenata anteriore e a quattro pistoncini per quella posteriore. L'abitacolo è forse l'oggetto più distaccato dall'idea di "macchina del tempo" subatomica, e si ispira, giustappunto, alle GT fuori tempo.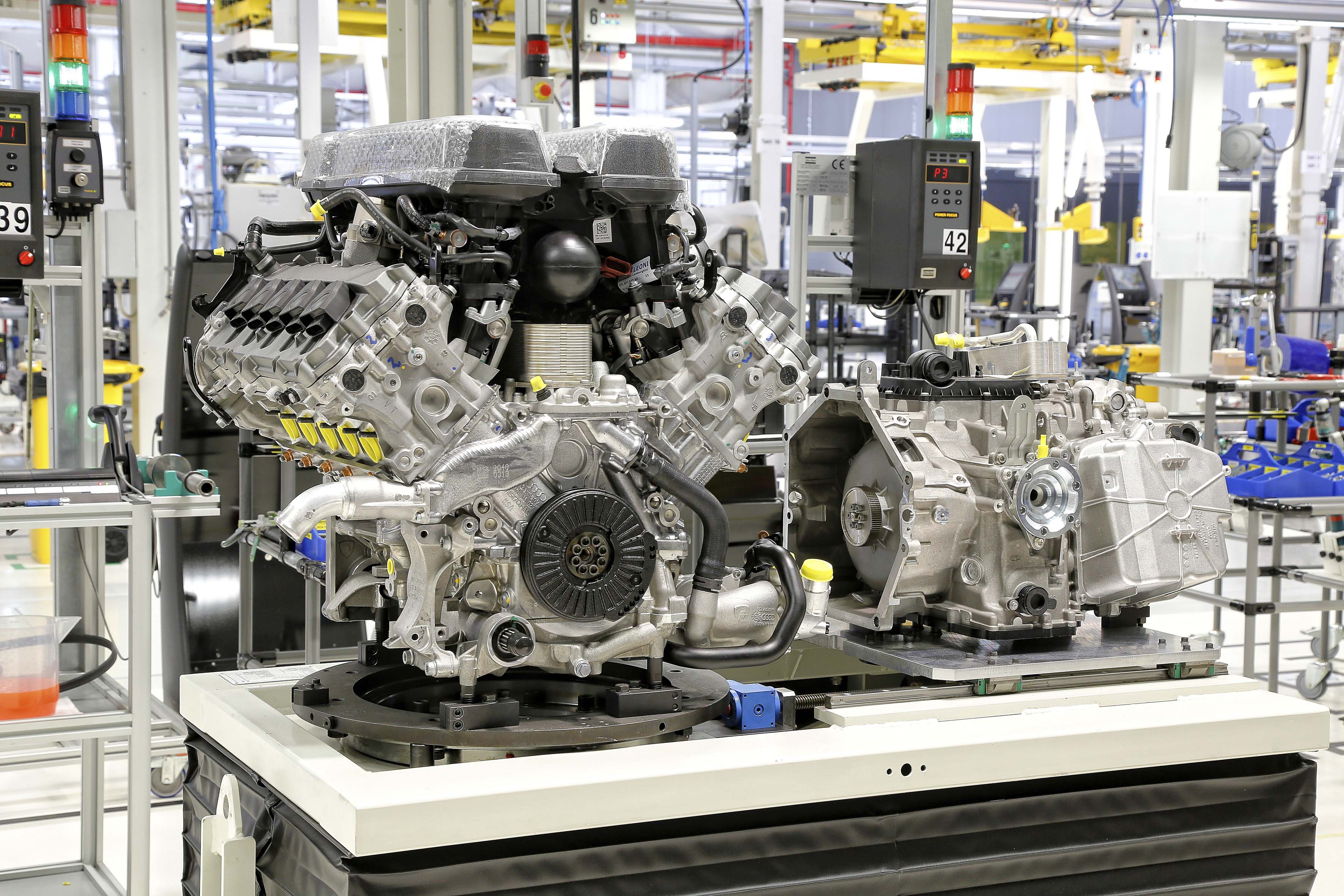 Lamborghini Huracán LP 610-4
Secondo Filippo Perini, il lavoro del team Lamborghini ha portato anche a una pulizia dei lineamenti, calibrando efficienza aerodinamica e pulizia delle superfici concave, "cosa mai fatta prima: i parafanghi hanno una conformazione sinuosa, sensuale, che io paragonerei al bacino di una donna". L'esplosione di sensualità in Huracán piove dal cofano, un po' astratto e indefinito, un po' letteratura hardboiled e saggio scientifico, con quei fari/lama a Led orizzontali che, a detta del designer, richiamano le sculture di Fontana: "Perché pur nella pulizia delle linee, vogliamo trasmettere un messaggio: prestate attenzione, una Lamborghini sa essere anche tagliente". Lame che somigliano a luminarie ben assestate e rendono la personalità ottica di questo oggetto un ingranaggio incassato nella strada, tenuto fermo dalla pista. Ed è in questo incastro che è situato il polo tramite cui scocca la scintilla con il guidatore, per "una precisione di guida degna di una vettura da corsa grazie a una straordinaria rigidità".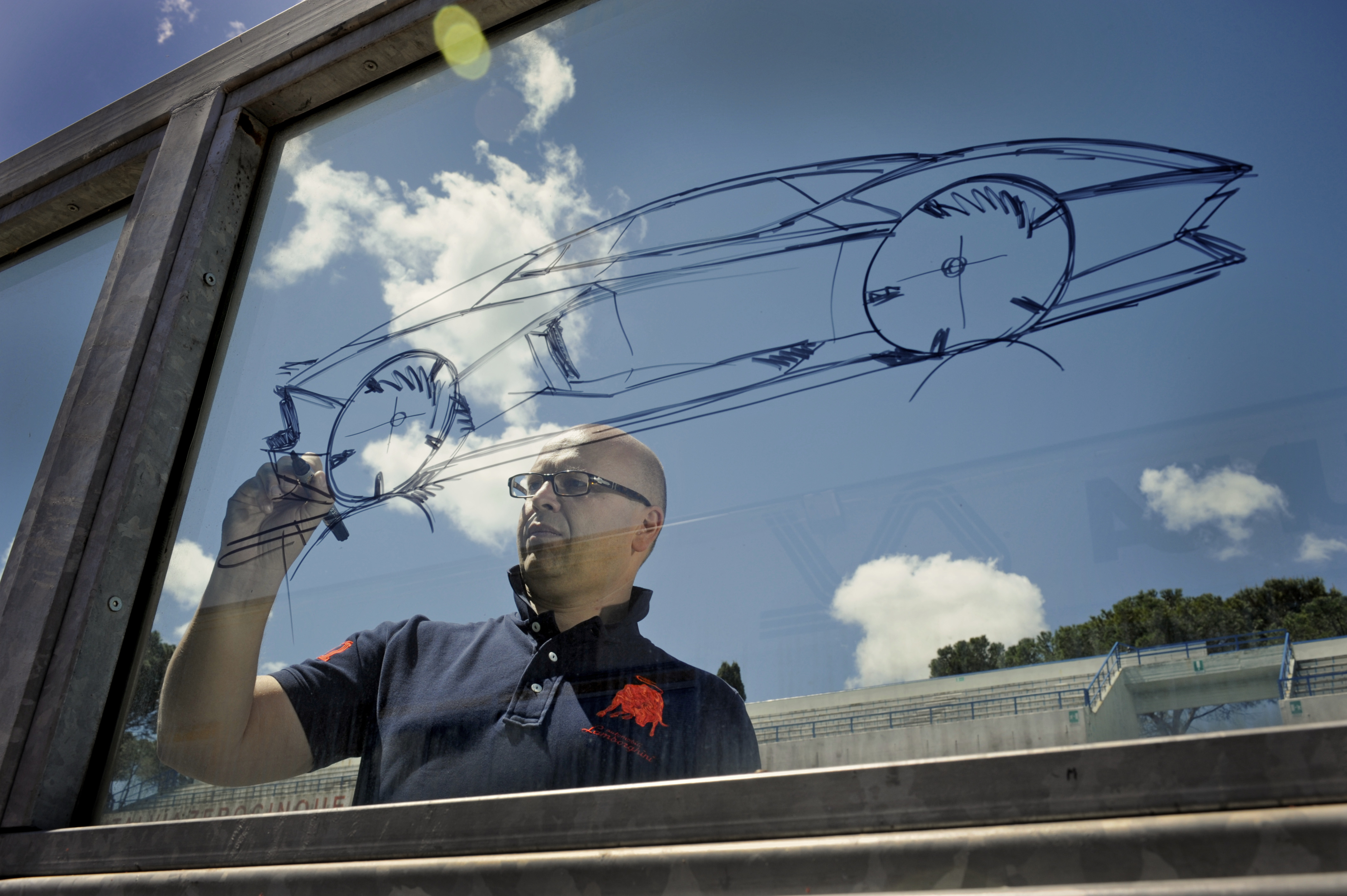 Filippo Perini
Stephan Winkelmann al Salone di Ginevra ha raccontato il suo "trucco" in un mondo che ha perso la magia, soprattutto in un'Europa dominata dalla stagnazione finanziaria: "Siamo piccoli, snelli nell'agire, e allo stesso tempo presenti nel team. Siamo un migliaio di persone che lavorano con molta passione. Il mercato è ristretto e solo se si è capaci di costruire un mito, come è accaduto a Lamborghini negli ultimi decenni, si può avverare il sogno. Poi occorre investire anche in tecnologia". E a proposito di sogno, Winkelmann ora è parecchio attento a chi chiede un desiderio da esaudire, scegliendo o attirando a sé il potenziale acquirente intenzionato a lanciarsi in investimenti alti: ne vuole conoscere i particolari, gli hobby, le abitudini, i segreti. In nome di una realtà oggettiva, quella della Lamborghini, sempre in ascolto della nicchia, di una determinata élite che incarna ancora la forza della società.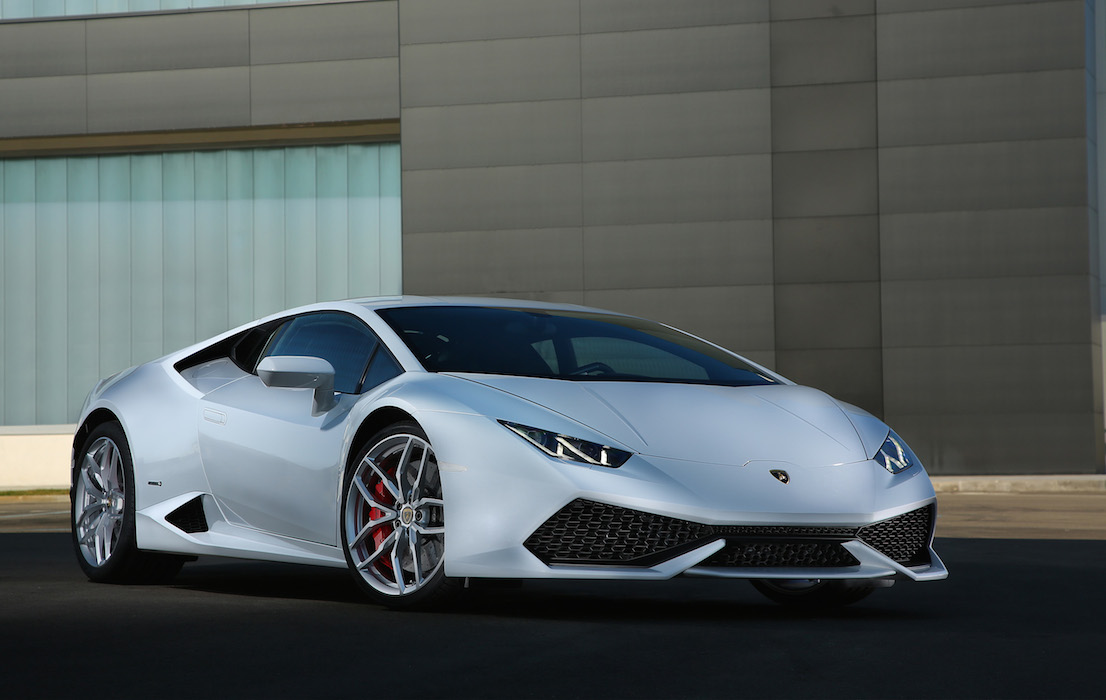 Lamborghini Huracán LP 610-4
Una vettura come la Huracán LP 610-4 è tutto questo ma, sopra ogni cosa, è un'icona. Un elemento somatico in grado di risvegliare relazioni emotive con il cinema e l'alambicco dell'arte. Da Crash di David Cronenberg a Christine di Carpenter/King. Il modello Lamborghini è, più di tutti, la "nuova carne" del conducente, mescolata con la ricerca di ipotesi "mediali" del corpo umano: status symbol, contaminazione, sfida, competizione, identità. Quasi una fusione molecolare, un corpo visivo, un prolungamento. Huracán arriva in un momento di passaggio ben definito, dalla realtà all'impressione, dalla potenza all'impotenza del driver. La cecità del pilota in mezzo alle spie Led è filtrata da molti aspetti ultramoderni, arcani incantatori di un darwinismo automobilistico. Siamo lontani dai corteggiamenti mortali uomo-macchina di Cronenberg, eppure la fascinazione inghiotte chi guarda nella stessa oscurità, nello stesso desiderio.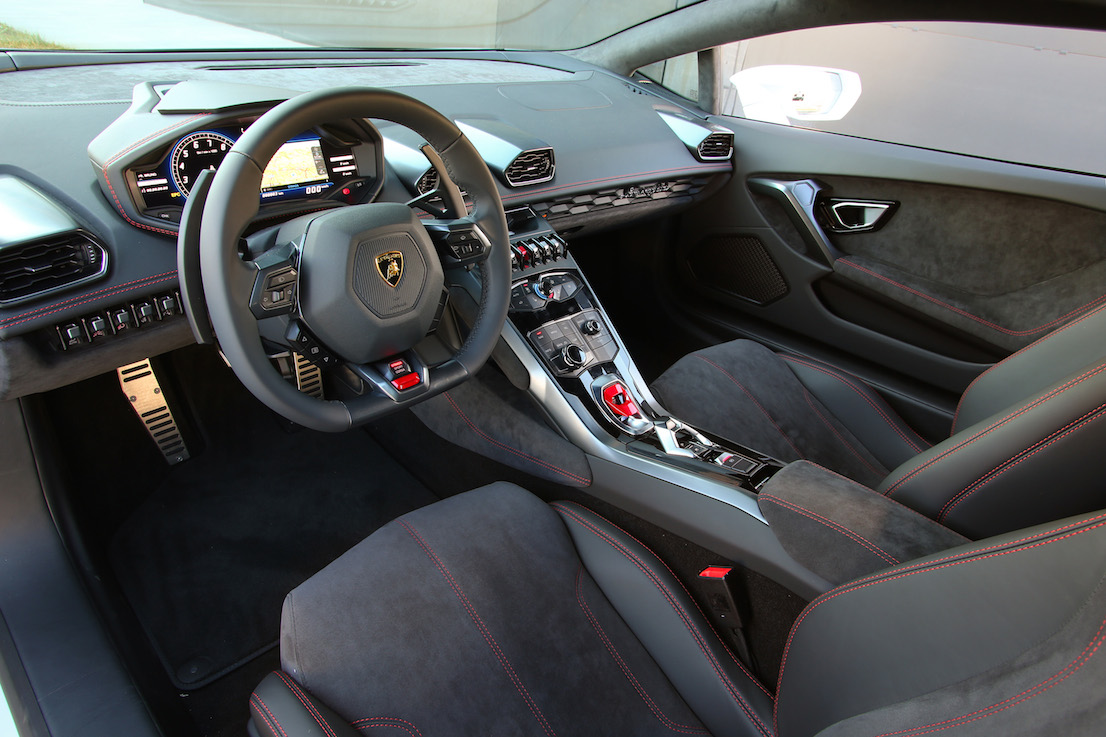 Lamborghini, con la sua estetica, la sua grazia, è una forma d'allucinazione à bout de souffle che arriva da Burroughs e dilaga nella schiavitù del tempo. Portandosi appresso il regno circolare delle supercar, quel mercato high-end europeo che, secondo il New York Times, "nonostante abbia problemi a far uscire dal Salone modelli da 15.000 dollari, riesce con facilità a vendere una macchina che ne costa 200.000". Le oltre 1.000 prenotazioni della Huracán LP 610-4 e il clamoroso successo della Gallardo, venduta in 14.000 esemplari, ci raccontano un gioco di potenza e di geometrie che passa per il design e il vano motore (nell'ultimo modello il contributo è quello della tecnologia Forged Composite, brevetto esclusivo Lamborghini). "Diversi Paesi, diverse regole sulle emissioni, diverse esigenze, ma la filosofia del motore aspirato montato longitudinalmente alle spalle del pilota e le peculiarità di guida che questo tipo di propulsore offre sono nel DNA della Lamborghini e rappresentano un punto di forza della Huracán", ha dichiarato Winkelmann.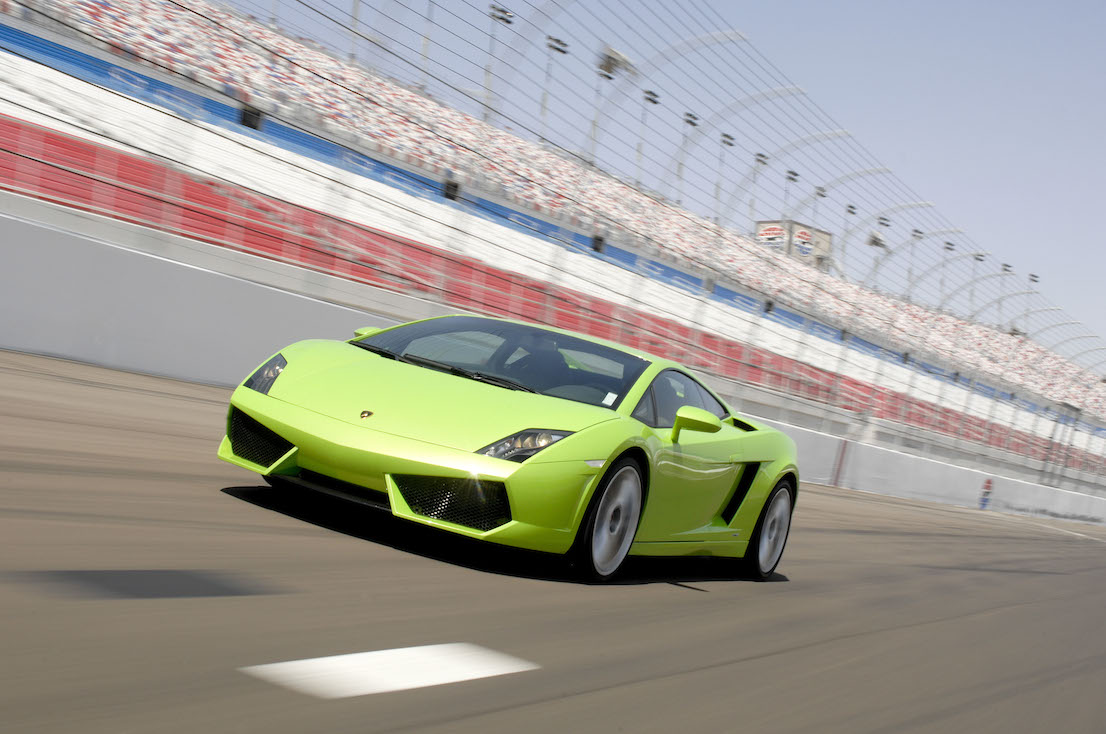 Lamborghini Gallardo LP560-4
E come in ogni (ultra)corpo, il dettaglio, se ben capito, è micidiale. Mentre il telaio ibrido è realizzato in alluminio e fibra di carbonio, la carrozzeria è costruita con uno strato esterno in alluminio e materiali compositi. Le sospensioni sono progettate a triangoli sovrapposti in alluminio, le molle in acciaio e gli ammortizzatori a controllo magnetoreologico. Il plus è l'utilizzo dell'elettronica di controllo con reazioni del motore, delle sospensioni, dello sterzo, che possono essere modificate attraverso la piattaforma inerziale Anima: 3 accelerometri e 3 giroscopi "calati" nel centro di gravità del veicolo. Lo sterzo Lds a rapporto variabile è disponibile come optional. Le gomme sono griffate Pirelli PZero di ultima generazione: 245/30 R20 davanti e 305/30 R20 dietro. Le prestazioni: velocità massima oltre 325 km/h, da 0 a 100 km/h in 3,2 secondi, da 0 a 200 km/h in 9,9 secondi. Le consegne del modello Lamborghini Huracán cominciano dal mese di giugno, ma sono già entrate nella storia. Ricorrono, inoltre, i 50 anni dalla presentazione della 350 GT, primo modello di serie della Casa di Sant'Agata Bolognese, destinato a competere con Ferrari e a varcare la mitologia.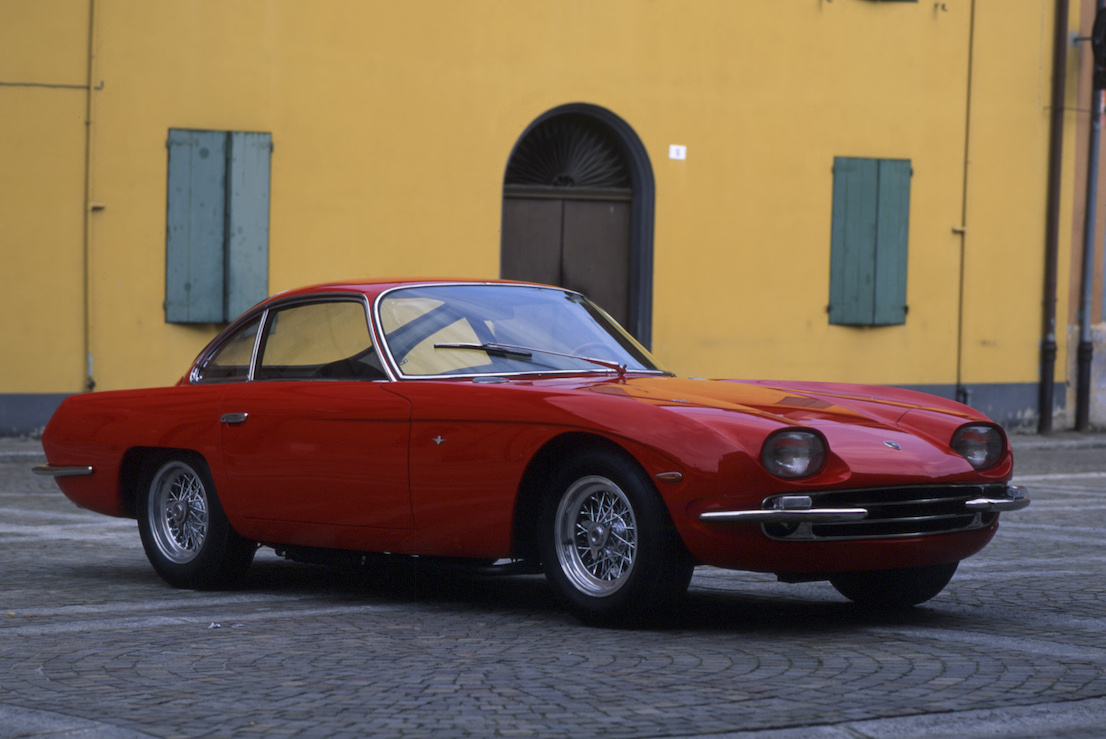 Lamborghini 350 GT. Photo: Guizzardi Umberto.
Forse, uno dei momenti in cui i clienti Lamboghini dall'animo rock si sono più riconosciuti nelle proprie auto, è stato quello in cui il leader degli AC/DC Brian Johnson ha dichiarato di amare il brand, fino a trascorrere una mattinata a Sant'Agata Bolognese, insolita e improvvisata Hall of Fame del rock. Il cantante ha visitato la fabbrica della Automobili Lamborghini con una troupe del canale Quest, per il quale Johnson conduce un programma sulle vetture-monumento dell'automobilismo mondiale (titolo: Cars That Rock). Il cantante si è introdotto nella linea di assemblaggio della Aventador e ha visitato il CKF, centro in cui è prodotta la monoscocca in carbonio della vettura. È questa una delle immagini più cronenberghiane della storia della Lamborghini, la forma d'ibridazione tra uomo e macchina, una dissoluzione del confine organico-inorganico, animus et anima, tra natura e cultura. Rock e pneumatico. Come impongono i tempi effimeri che viviamo.
/
Huracán is the name of a legendary Spanish bull who fought at Alicante in August 1879, leaving the ring unbeaten. The Lamborghini Huracán LP 610-4 is pure fighting bull on wheels. At the Geneva Motor Show, in March, it reached new heights in the buzz surrounding the launch of automobiles, thanks in part to a 60-leg promotional tour and 130 events reserved for customers with high aspirations (they have been personally identified by the CEO and president Stephan Winkelmann). The official video promoting the Huracán (One Man, One Car, One Mission) begins with a storm over Oklahoma City, as if it were a mix of "science-fiction and lightning" written by Nigel Kneale. A man taking a rest in his loft receives a telephone call. The level of alarm, outside, is high: "You need to get out," he's told by a woman's voice on the other end of the line. He'd have a hard time getting out of the city if it were not for that coupé parked not very far away. And it is on board the heir to the Gallardo—high performance, streamlined, indomitable, designed to cater to man's wildest instincts—that the adventure begins.

Lamborghini Huracán LP 610-4
Rather than a bull of the Spanish Conte de La Patilla breed, the Lamborghini Huracán LP 610-4 is a soundstage, an attack vehicle that rips up the asphalt. Filippo Perini's design is almost out of control, it flies on its tires: sharp edges, sculptured monolithic volumes, subversive musculature. The spine that runs along the sides of the Huracán has a touch of the Western, artificial and animal at one and the same time, while the windows at the rear close off the hexagonal structure of the supercar. A supercar that costs all of 201 thousand euros, incidentally. The wedge-shaped appearance, with two doors and two seats, characteristic of all Lambos is still there, but the sensation, looking at the car's wheels and sides, is that this model has a much more earthly energy than the prototypes of the past, that its fidelity to the straight line or the rock is an armed and ruthless struggle like the ones we see in Sam Peckinpah's movies. On the road, its bursts of speed cause it to lose shape, blending with the air. "We used a simple concept in its design," Winkelmann has explained to the press, "that of instinctive technology. On the one hand, like all Lamborghinis, it is crammed with innovations, on the other it's a car that seems to be tailor-made for each driver. Very easy in the city and on the road, very fast and safe on the racetrack."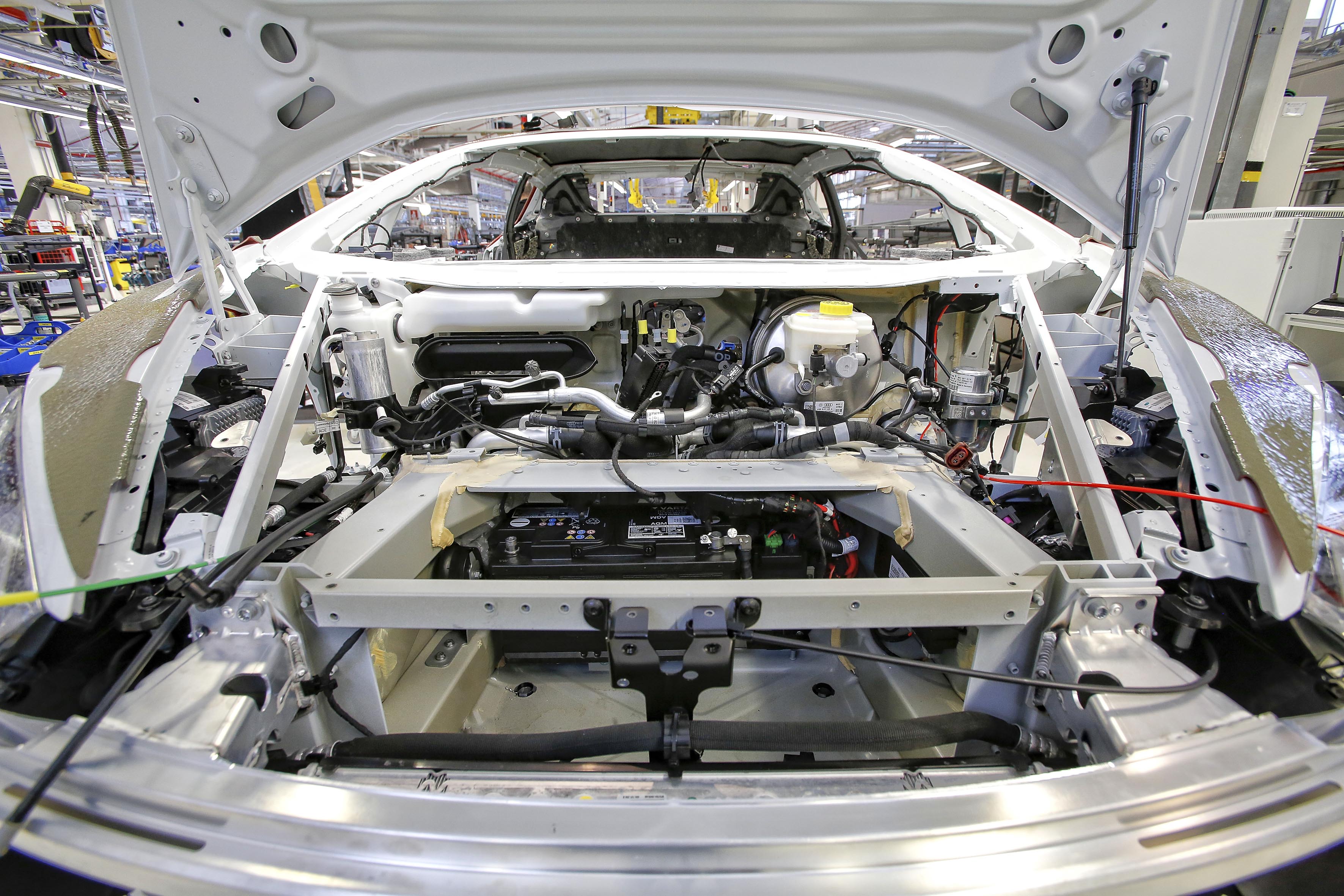 Lamborghini Huracán LP 610-4
The heart of the Huracán LP 610-4 resembles a gyroscopic motion picture camera, a steadycam for outdoor shooting. It is the central aspirated V10 engine, visible to the naked eye behind the driver's seat, with a maximum power of 610 HP, maximum torque of 560 Nm, emission class EURO 6. The chassis knows no bounds: for the first time we are dealing with a hybrid of aluminum and carbon fiber. If to this we add the new all-wheel drive, then "the instinct of the future," the slogan with which the model has been launched, takes on a life of its own, independent of the perception of reality. That it has a heart and that brilliant color conveys Lamborghini's typical mobile point of view are also demonstrated by a (red) button set on the bottom of the steering wheel, which can be used to select one of three driving modes: street, sport, racing. The electronic controls that communicate with the engine turn this spacesuit of an auto into a sort of impracticable teleportation: seven-speed dual-clutch transmission, steering and suspension, hydraulic dual-circuit brake system with vacuum brake servo unit, six-piston calipers at the front, four-piston calipers at the rear. The interior is perhaps the part most detached from the idea of a subatomic "time machine," and is inspired, precisely, by those timeless GTs of the past.

Lamborghini Huracán LP 610-4
According to Filippo Perini, the work of the Lamborghini team has also led to a cleanness of the lines, balancing aerodynamic efficiency and smoothness of the concave surfaces, "something never done before: the fenders have a sinuous, sensual shape, which I would compare to a woman's hips." The explosion of sensuality in Huracán flows down from the hood, a bit abstract and undefined, part hardboiled fiction and part scientific paper, with those LED headlights in the shape of horizontal blades that, according to the designer, recall Fontana's sculptures: "Because while the lines are clean, we have a message to convey: be careful, a Lamborghini can be sharp too." Blades that look like well-bedded lights and make the optical personality of this object a mechanism sunk into the road, held tight by the track. And it is this embedding that strikes the spark with the driver, through "a precision of steering worthy of a racing car thanks to an extraordinary rigidity."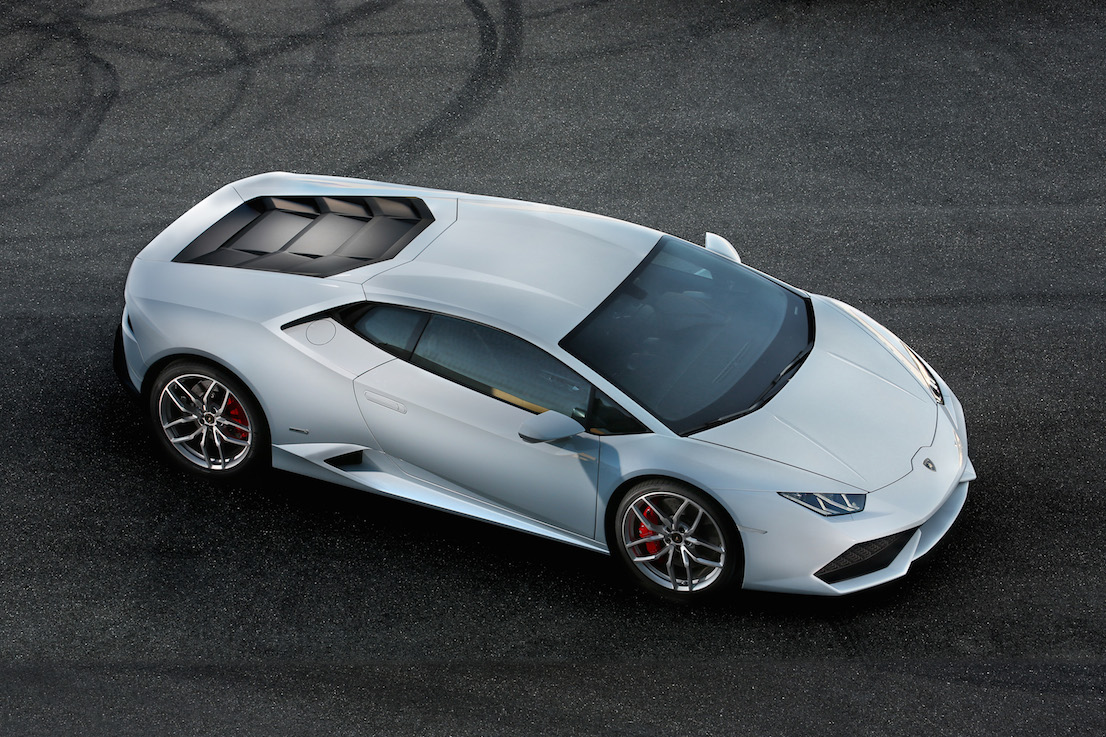 Lamborghini Huracán LP 610-4
At the Geneva Motor Show Stephan Winkelmann talked about his "secret" in a world that has lost its magic, especially in a Europe mired in financial stagnation: "We are small and agile, and at the same time work as a team. We are a thousand people who put great enthusiasm into what we do. The market is limited and only if one is capable of creating a myth, as Lamborghini has done over the last few decades, can the dream come true. And then it is necessary to invest in technology too." And on the subject of dreams, Winkelmann is now very attentive to those who have a desire to fulfil, selecting or attracting the potential buyer willing to invest large sums: he wants to know everything about him, his hobbies, habits, secrets. In the name of an objective reality, that of Lamborghini, always listening to its niche, to a particular élite that is still the powerhouse of society.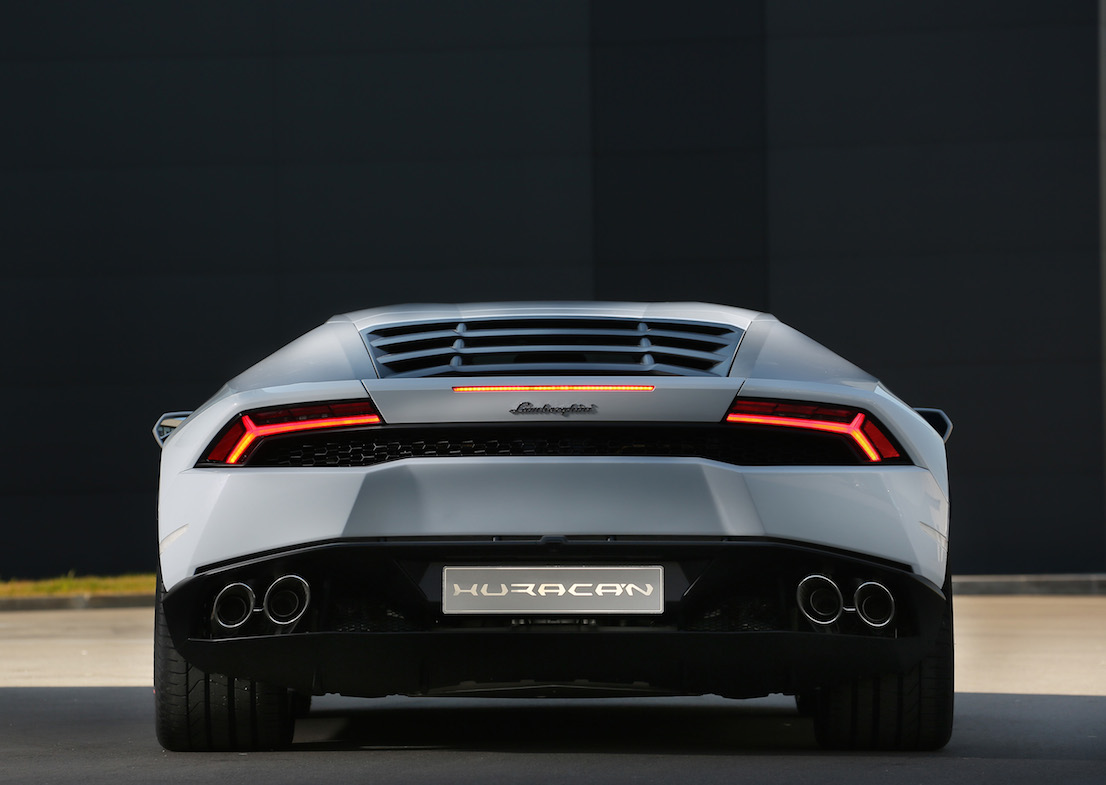 Lamborghini Huracán LP 610-4
A car like the Huracán LP 610-4 is all this but, above all else, it is an icon. A somatic element able to trigger emotional ties with the cinema and the alembic of art. From David Cronenberg's Crash to Carpenter/King's Christine. The Lamborghini model is, more than any other, the driver's "new flesh," mixed with a quest for "media" hypotheses of the human body: status symbol, crossover, challenge, competition, identity. Almost a molecular fusion, a visual body, an extension. Huracán arrives at a well-defined moment of transition, from reality to impression, from the power to the powerlessness of the driver. His blindness in the midst of LED indicators and gauges is filtered by many ultramodern aspects, arcane enchanters of a Darwinism of driving. We are a long way from the lethal man-machine courtships of Cronenberg, and yet the enchantment swallows up those who peer into darkness itself, into desire itself.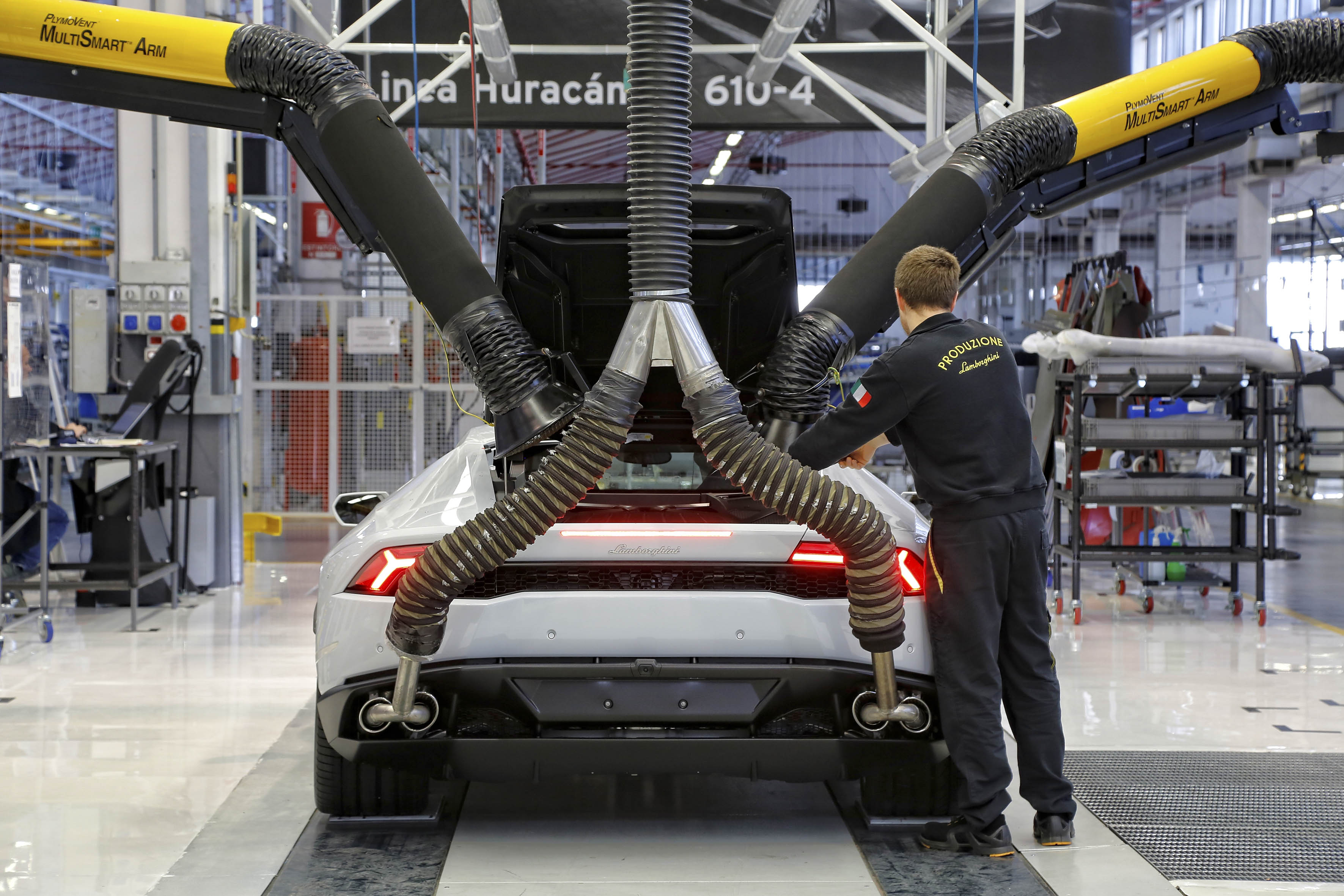 Lamborghini Huracán LP 610-4
Lamborghini, with its aesthetics, its grace, is a form of breathless hallucination that comes out of Burroughs and grows rampant in the bondage of time. Taking with it the élite realm of the supercar, the high-end European market. According to The New York Times, "European automakers are having a tough time moving their $15,000 models off the lot these days. But selling a $200,000 car seems to be getting easier and easier." The over a thousand orders for the Huracán LP 610-4 and the resounding success of the Gallardo, of which 14 000 have been sold, speak to us of a play of power and geometry that passes through design and the engine bay (in the latest model the contribution comes from forged composite material, a technology patented by Lamborghini). "Different countries, different rules on emissions, different requirements, but the philosophy of the aspirated engine mounted longitudinally behind the driver and the distinctive driving experience that this kind of propulsion system offers are in Lamborghini's DNA and represent a strength of the Huracán," Winkelmann has declared.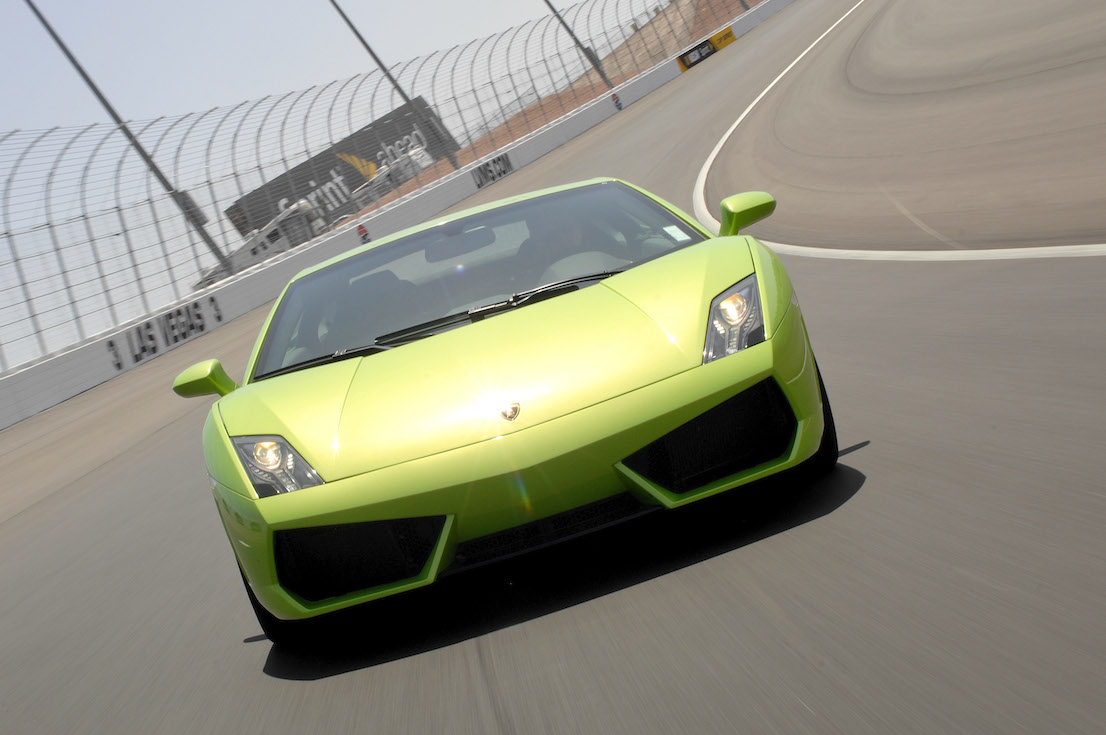 Lamborghini Gallardo LP560-4.
And as in every body, the detail, if grasped properly, is crucial. While the hybrid chassis is made of aluminum and carbon fiber, the body has an outer layer of aluminum and composite materials. The front and rear suspension consists of superimposed triangle wishbones made of aluminum, steel springs and magneto-rheological damping control. The plus is the use of electronic control that allows the reactions of the engine, suspension and steering to be modified by means of the Anima inertial platform: three accelerometers and three gyroscopes "sunk" into the vehicle's center of gravity. Lamborghini Dynamic Steering with variable ratio is available as an optional. The tires are the latest generation of Pirelli PZeros: 245/30 R20 in front and 305/30 R20 behind. Performance: top speed over 325 km/h (202 mph), 0 to 100 km/h (62 mph) in 3.2 seconds, 0 to 200 km/h (124 mph) in 9.9 seconds. Deliveries of Lamborghini's Huracán model will begin in June, but have already broken all records. They will also mark 50 years since the presentation of the 350 GT, the first production car made by the Sant'Agata Bolognese-based manufacturer, destined to vie with Ferrari and earn itself a place in mythology.
Perhaps one of the moments in which Lamborghini's customers who have a taste for hard rock felt proudest of their cars was when the lead singer of AC/DC Brian Johnson declared his love of the brand, prompting him to spend a morning at Sant'Agata Bolognese, unexpectedly transformed into a Rock and Roll Hall of Fame. The musician visited the Automobili Lamborghini factory with a crew from the Quest channel, for which Johnson is hosting a series on some of the most iconic autos in the world (title: Cars That Rock). The singer found his way onto the assembly line of the Aventador and visited the CKF, where the car's carbon-fiber monocoque is produced. This is one of the most Cronenbergian images in the history of Lamborghini, a form of hybridization between man and machine, a breakdown of the barrier between organic and inorganic, animus et anima, nature and culture. Rock and pneumatic tire. As the ephemeral times in which we live demand.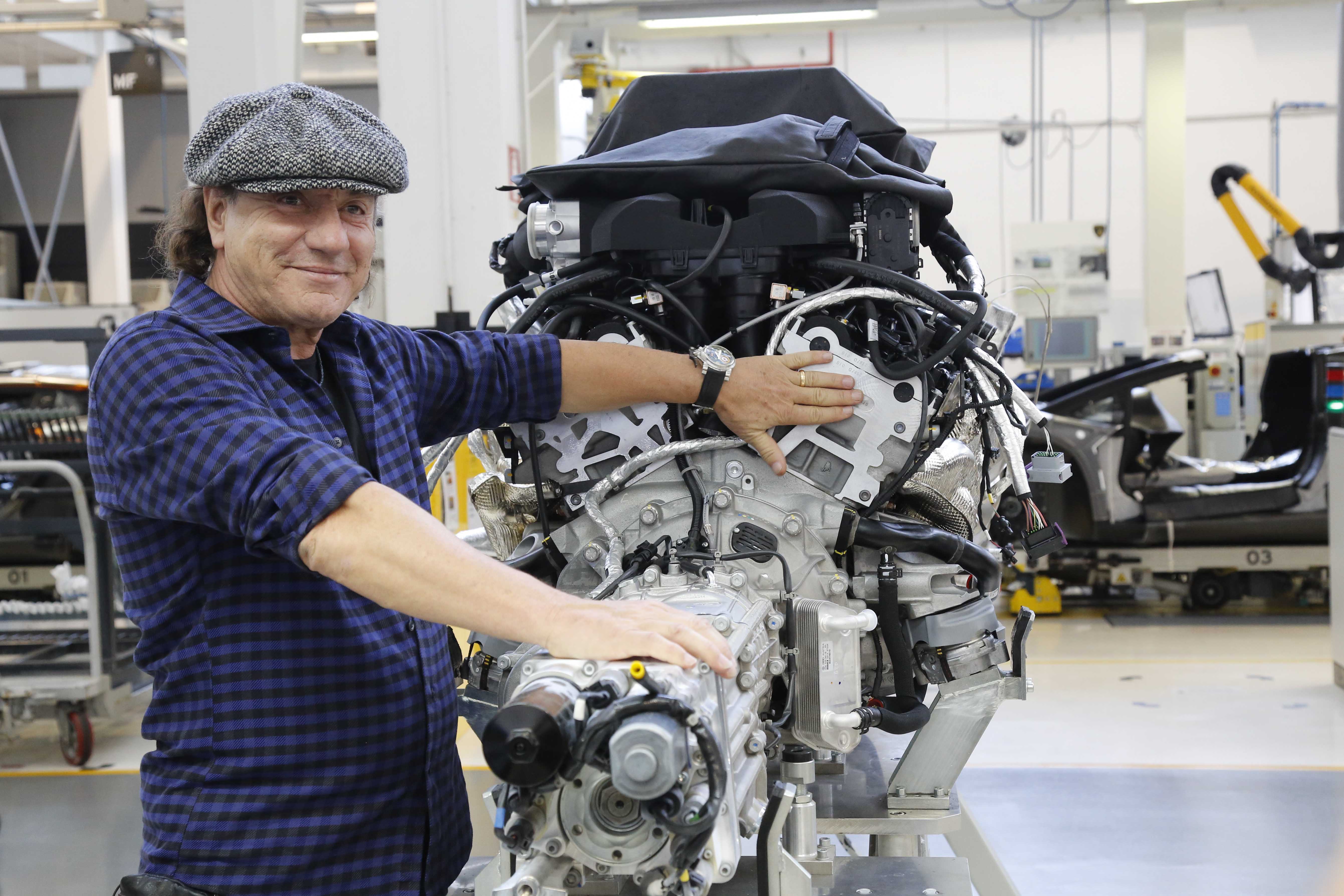 Brian Johnson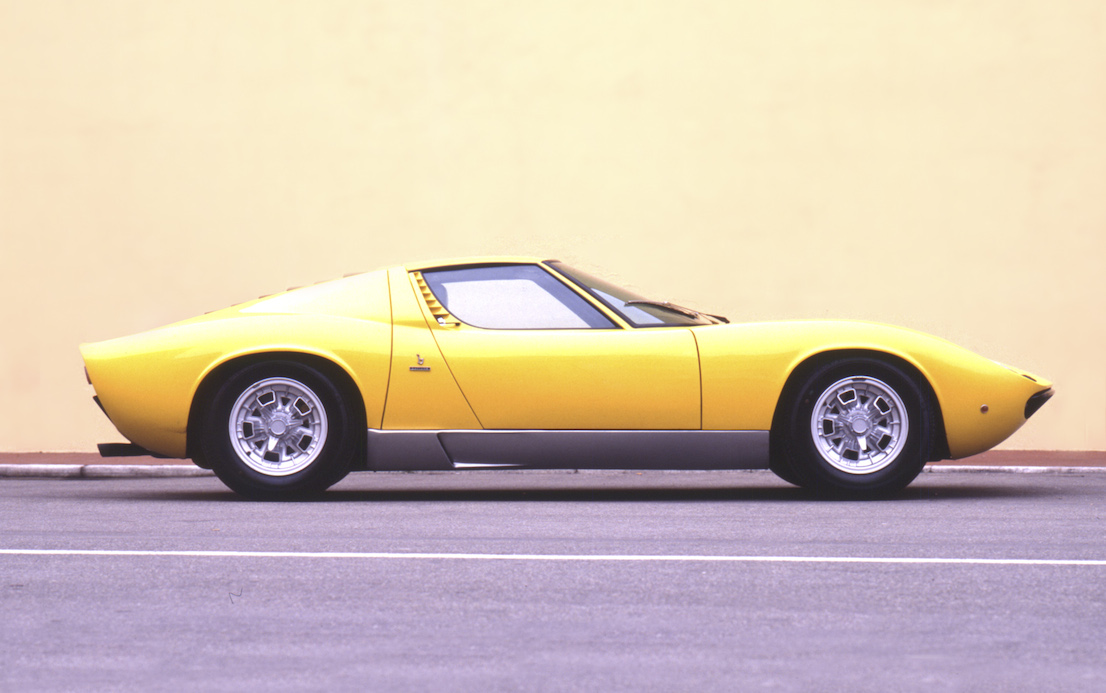 Lamborghini Miura.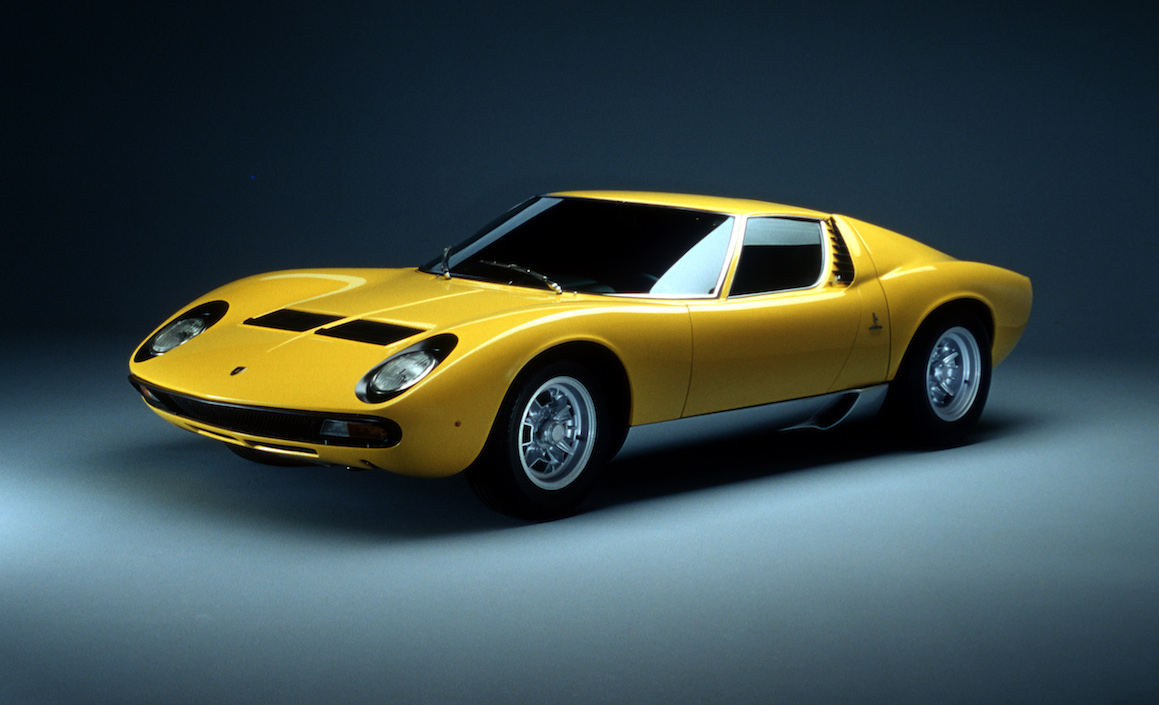 Lamborghini Miura.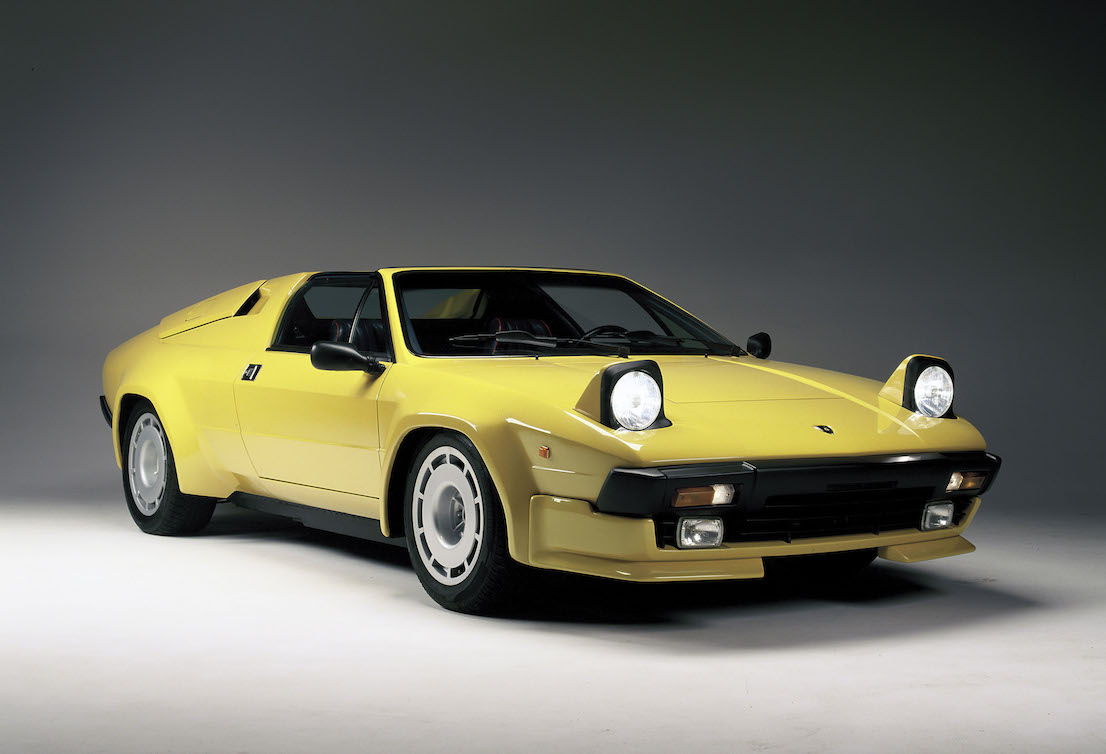 Lamborghini Jalpa.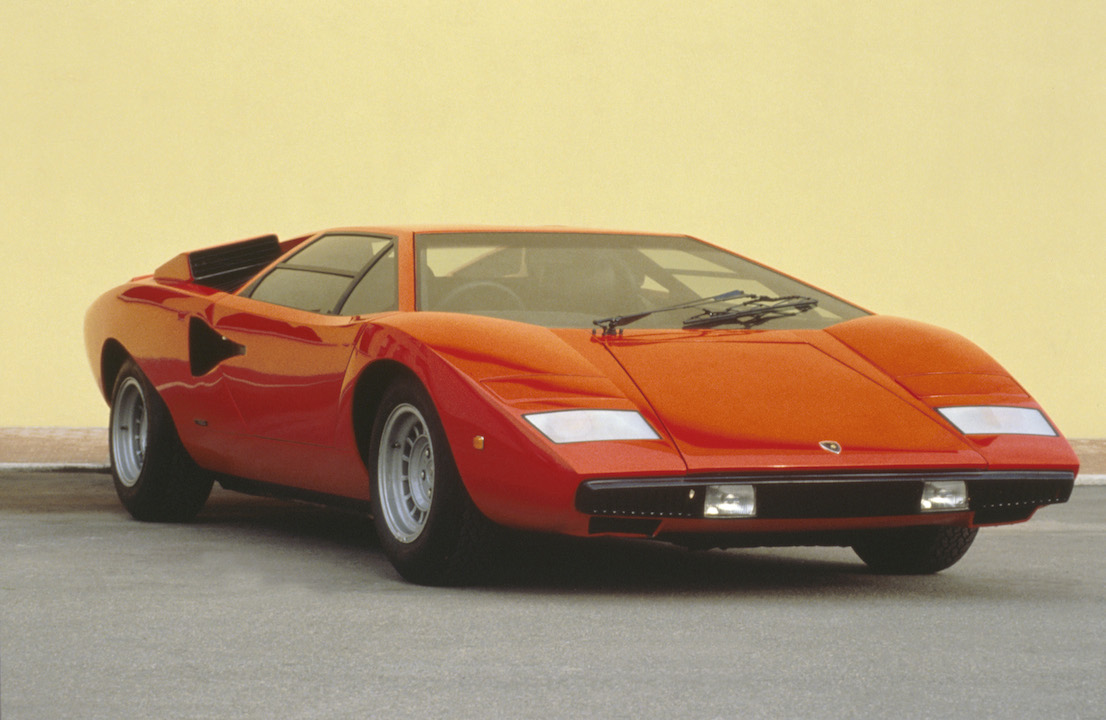 Lamborghini Countach LP400.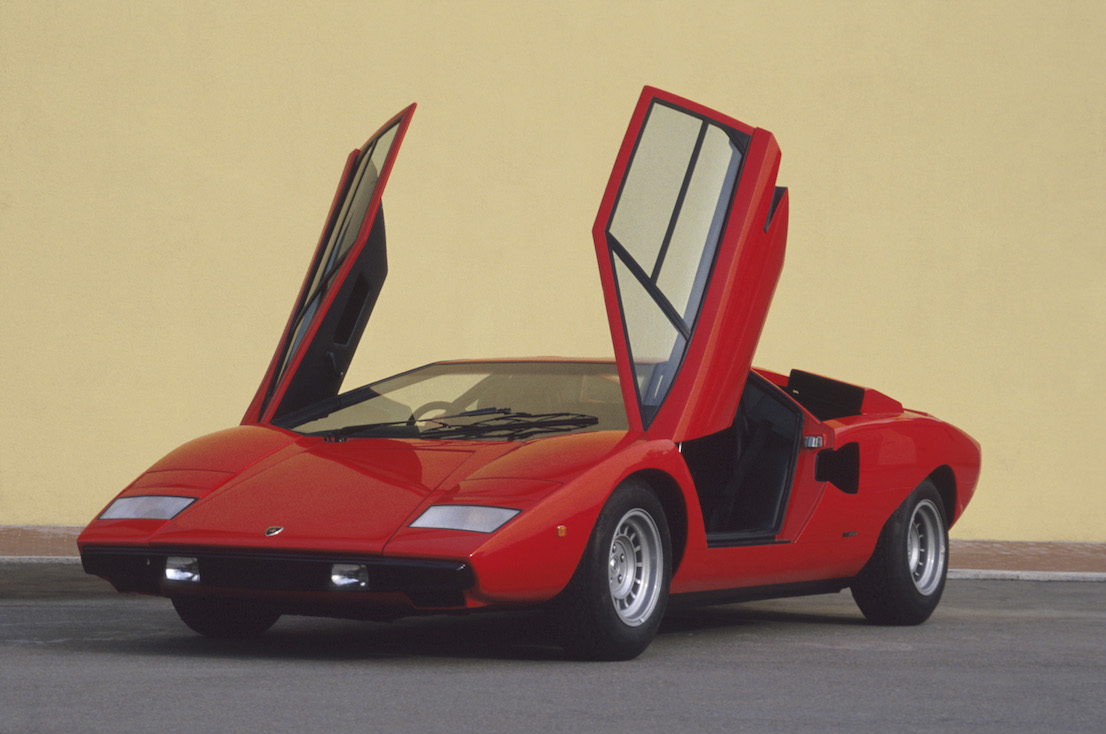 Lamborghini Countach LP400.