4 February 2014
For some time the various branches of the Mafia in Italia have changed their appearance, infiltrating civil society and the national system of production. After years of massacres and murders of high-ranking officials, organized crime no longer stands out for its brutality, but for its ability to conceal itself and spread out, distributing its clans from North to South, moving from the big cities to small towns scattered over most of the peninsula. Tommaso Bonaventura and Alessandro Imbriaco's Corpi di Reato is an exploration of the Italian territory following traces of the presence of the Mafia in the landscape, in the cultural heritage, in the urban fabric. Confronted with a Mafia that no longer has a recognizable face, one possible way to reveal its roots and pervasive presence in society is through places: looking at them, scrutinizing them, in order to find signs of criminal activity or establish its absolute invisibility.
Tommaso Bonaventura e Alessandro Imbriaco
Corpi di Reato. Un'archeologia visiva dei fenomeni mafiosi nell'Italia contemporanea
Le Gallerie
A cura di Fabio Severo
Trento
26 gennaio – 30 marzo 2014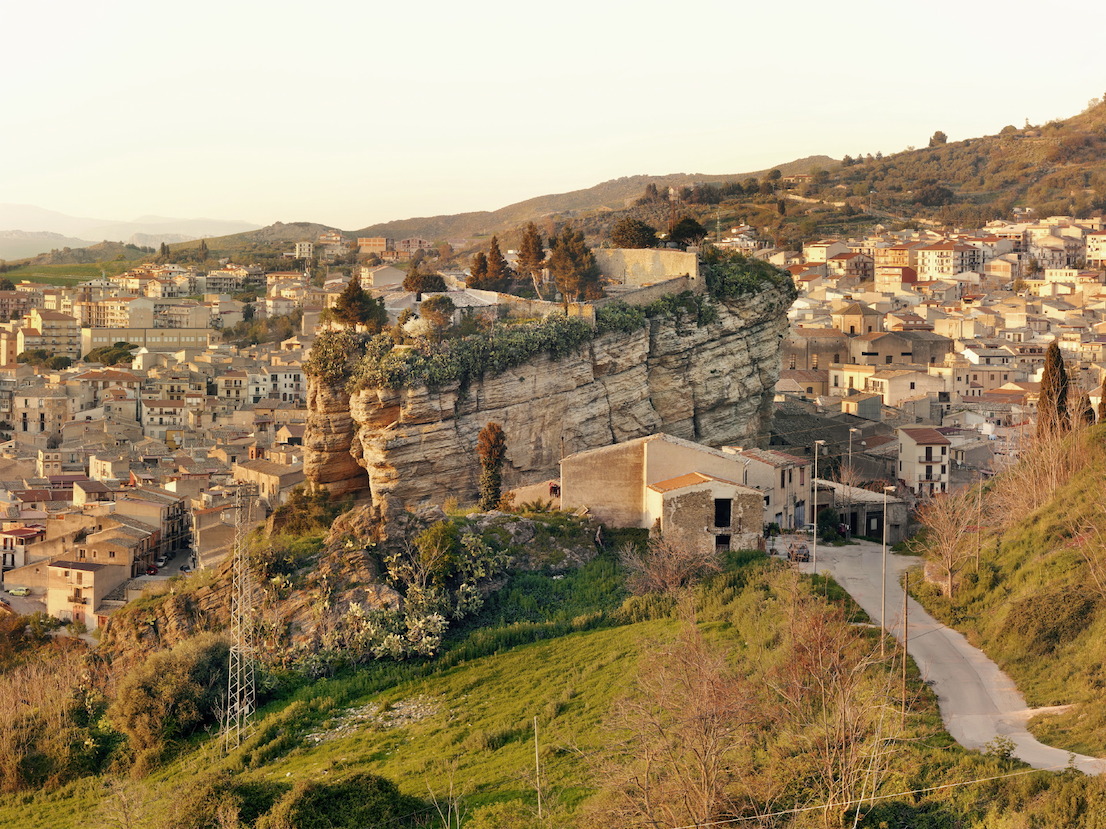 Corleone, Palermo, 2012. Corleone è stata per circa quarant'anni la roccaforte del cosiddetto clan dei Corleonesi, artefice negli anni Ottanta e Novanta della più sanguinosa offensiva mafiosa contro lo Stato italiano. / Corleone, Palermo, 2012. For around forty years Corleone was the stronghold of the Corleonesi clan, who waged the bloodiest Mafia war against the Italian state in the 1980s and '90s.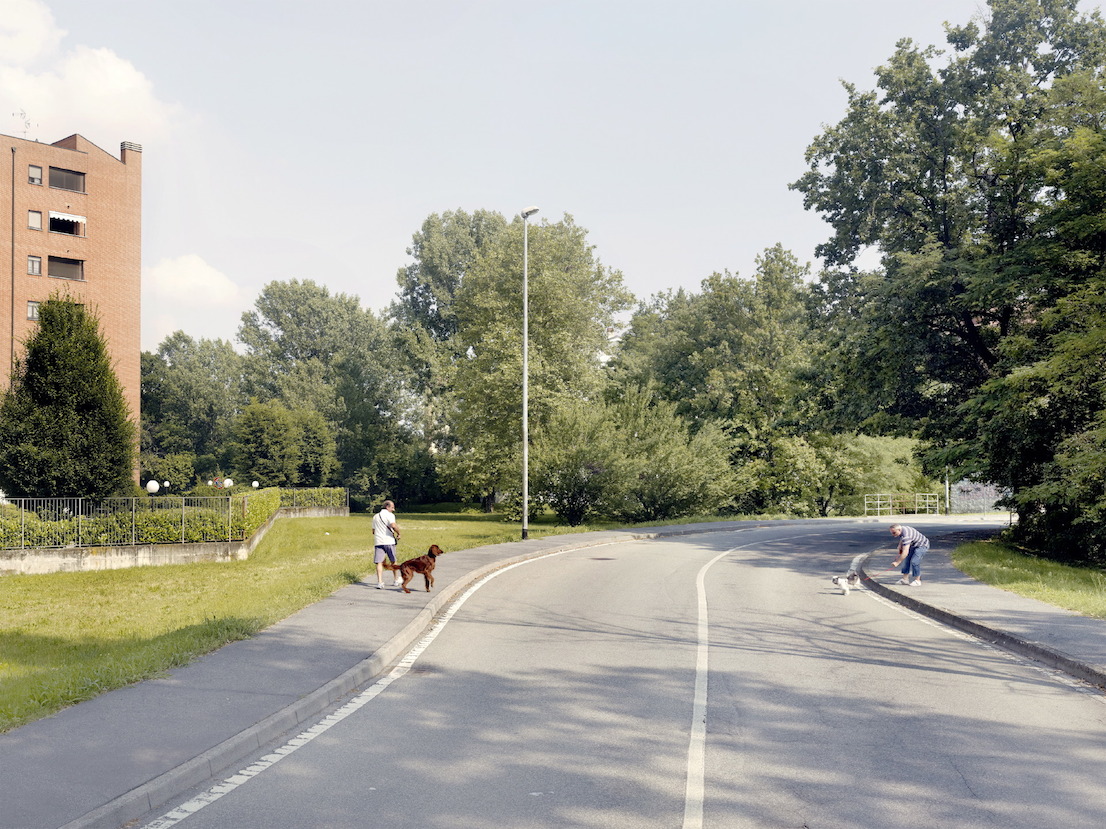 Via Salieri, Buccinasco, Milano, 2012. Nel 2004 nei pressi di Via Salieri sono stati rinvenuti due bazooka che, secondo le indagini di polizia, sarebbero dovuti servire a far saltare in aria l'automobile del sostituto procuratore di Milano Alberto Nobili. / Via Salieri, Buccinasco, Milano, 2012. 
In 2005, two bazookas were found near Via Salieri. Police enquires revealed that the local 'Ndrangheta was planning to use them to blow up the car of Milan's deputy public prosecutor, Alberto Nobili.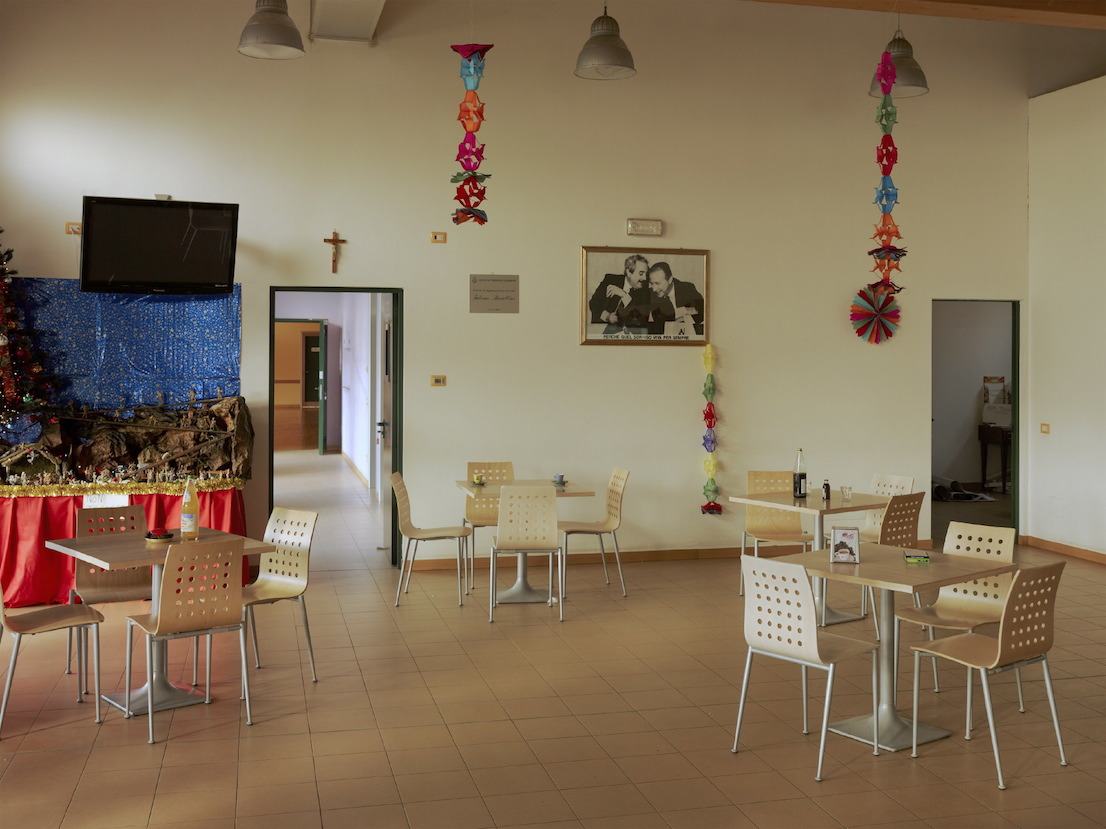 Circolo ARCI "Falcone e Borsellino", Paderno Dugnano, Milano, 2012. Qui il 31 ottobre 2009 i 22 capi delle 'ndrine lombarde si sono riuniti per eleggere Pasquale Zappia, il nuovo rappresentante della 'ndrangheta lombarda. La riunione è stata filmata dalla polizia nel corso delle operazioni dell'indagine "Infinito". / ARCI Society "Falcone and Borsellino," Paderno Dugnano, Milan, 2012. 
On October 31st 2009, 22 bosses of the Lombardy 'ndrine groups came together here to elect Pasquale Zappia as the new representative of the Lombardy 'Ndrangheta. The meeting was filmed by the police as part of the investigations in the "Infinito" operation.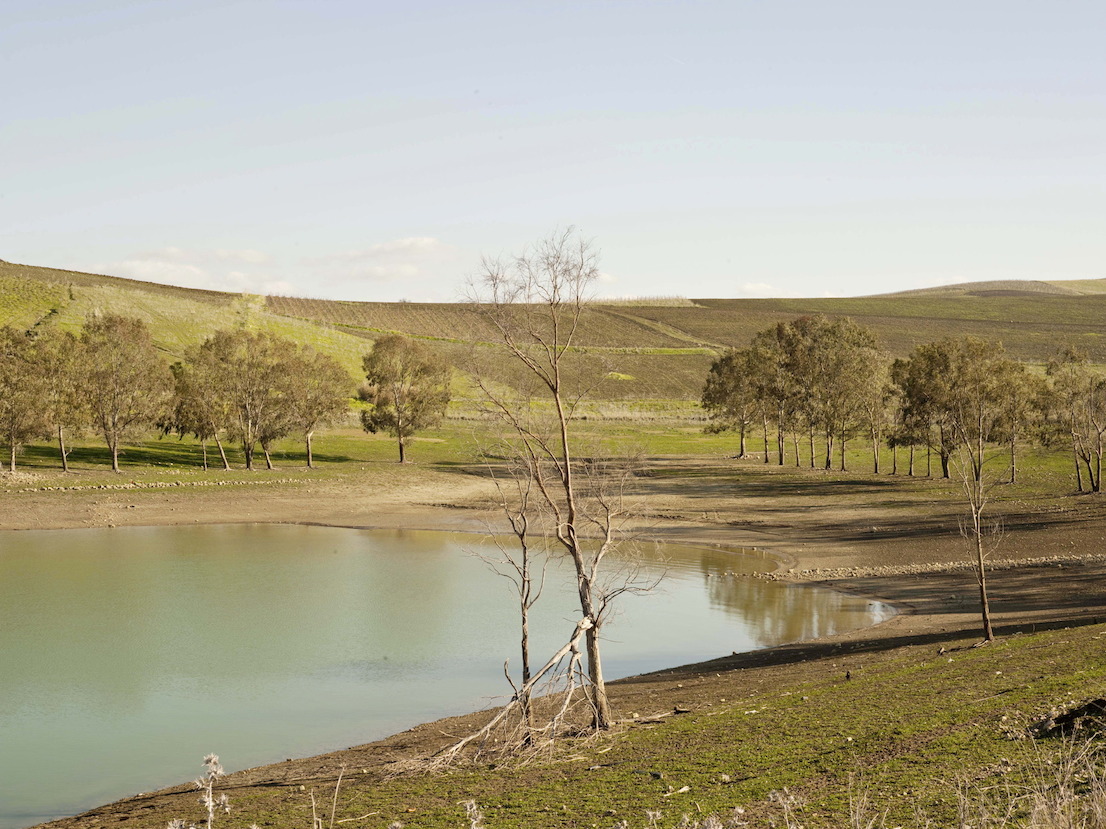 Valle del fiume Jato, San Giuseppe Jato, Palermo, 2012. Il comune di San Giuseppe Jato è stato per decenni una delle roccaforti del clan dei corleonesi, mandamento della famiglia Brusca prima con Bernardo e poi con il figlio Giovanni, ideatore della strage di Capaci. Nei dintorni della valle del fiume Jato negli anni si sono consumati alcuni tra i più atroci delitti di mafia: negli anni Ottanta Brusca è stato responsabile insieme a Totò Riina e Bernardo Provenzano di decine di omicidi, principalmente mirati all'eliminazione della vecchia guardia dei corleonesi. I resti delle vittime spesso venivano fatti sparire nel fiume che attraversa la valle. / Jato River Valley, San Giuseppe Jato, Palermo, 2012. For decades the town of San Giuseppe Jato, thirty kilometres from Palermo, was a stronghold of the Corleonesi clan, under the "jurisdiction" of the Brusca family, first Bernardo and then his son Giovanni Brusca, who planned the Capaci Massacre. Some of the most atrocious Mafia crimes took place around the Jato river valley, and their traces were hidden in the watercourse that runs along it.
Vista dal balcone della casa di Gaetano Badalamenti, Cinisi, Palermo, 2012. Capomafia di Cinisi e leader della cupola di Cosa Nostra negli anni Settanta, Badalamenti è morto nel 2004 in un carcere degli Stati Uniti mentre stava scontando una condanna di 45 anni per narcotraffico. Nel 2002 la corte italiana lo aveva condannato all'ergastolo per l'omicidio di Giuseppe Impastato, avvenuto nel 1978. La sua abitazione a Cinisi è stata donata al Centro Impastato nel 2010. / View from the balcony of Gaetano Badalamenti's house, Cinisi, Palermo, 2012. Mafia boss in Cinisi and leader of the Cosa Nostra "cupola" (the so-called "commission") in the '70s, Badalamenti died in 2004 in a United States prison whilst serving a 45 year sentence for drug trafficking. In 2002 an Italian court sentenced him to life imprisonment for the murder of Giuseppe Impastato, which took place in 1978. His house in Cinisi was donated to the Impastato Center in 2010.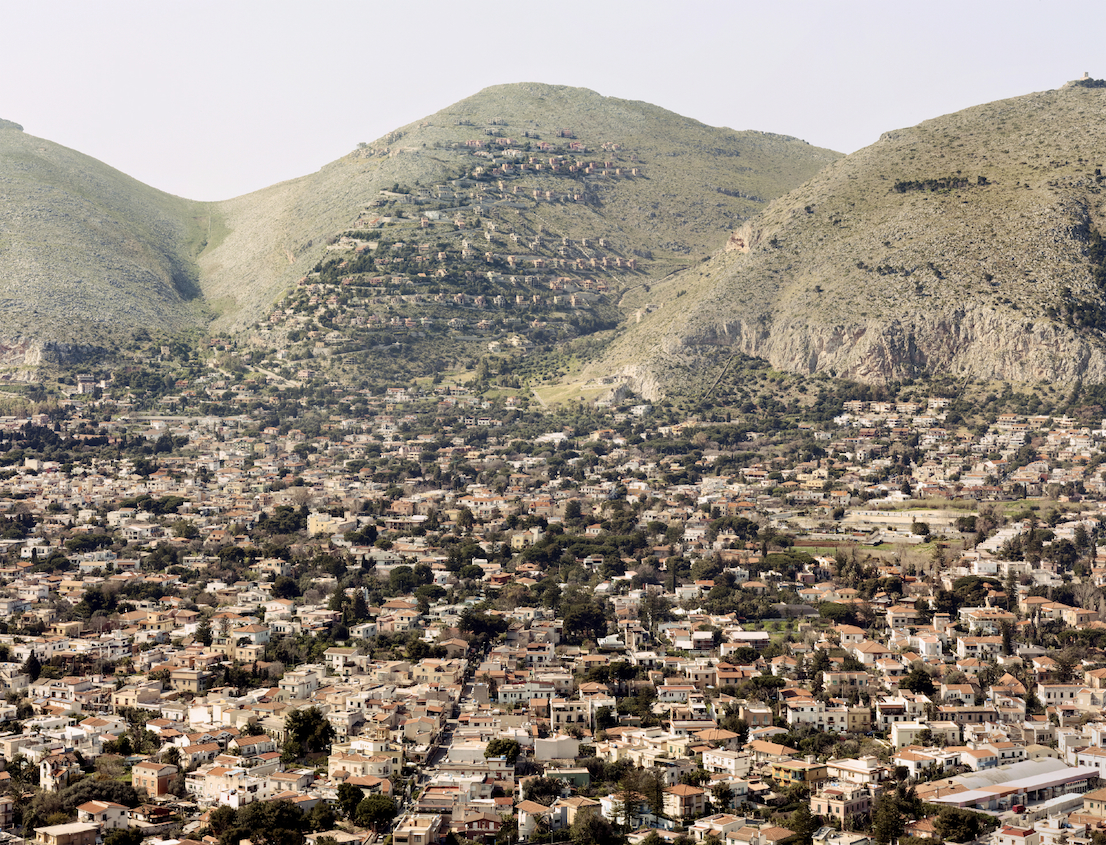 Collina di Pizzo Sella, Palermo, 2012. Nota come "la collina del disonore", negli anni Settanta una ditta di costruzioni vicina alla famiglia del boss Michele Greco ha ottenuto le concessioni per costruire su Pizzo Sella circa 170 villette, che una sentenza del 2001 ha giudicato abusive e ne ha ordinato la confisca. Nell'aprile 2012 la Corte di Cassazione ha revocato la confisca, giudicando che all'epoca gli acquirenti avrebbero agito in buona fede, e quindi considerandoli non punibili con il sequestro delle abitazioni. / Pizzo Sella Hill, Palermo, 2012. During the 1970s a construction company close to the family of Mafia boss Michele Greco was granted planning permission to build about 170 houses on Pizzo Sella, then known as the "hill of disgrace". In 2001 a court verdict ruled them unlawful and ordered their seizure. In April 2012 the supreme court revoked the seizure, ruling that the buyers had acted in good faith at the time, and thus considering them not punishable by the seizure of their homes.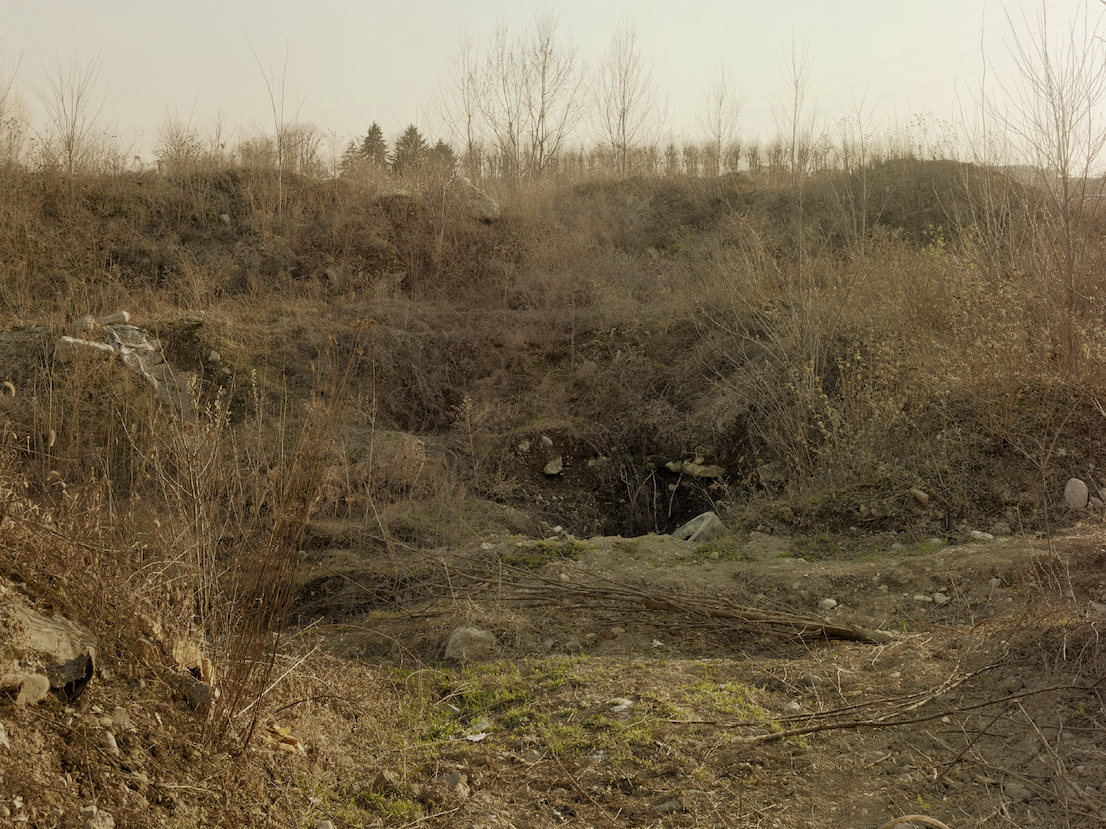 Discarica abusiva sotto sequestro, Desio, Monza e Brianza, 2012. Nel 2008 la procura di Monza ha scoperto a Desio un traffico abusivo di rifiuti, in un'area di 30000 mq precedentemente acquistata da affiliati al clan calabrese Iamonte-Moscato. Il terreno nella zona di Via Molinara, in cui si sospetta la presenza di diversi tipi di rifiuti tossici, è ancora oggi sotto sequestro, in attesa del finanziamento delle operazioni di bonifica. / Illegal dump under sequester, Desio, Monza and Brianza, 2012. In 2008 the Monza prosecutor's office discovered an illegal waste trafficking operation in Desio, conducted in a 3,000-square-metre area that had previously been purchased by affiliates of the Iamonte-Moscato Calabrian clan. The land in the Via Molinara area, in which the presence of various types of toxic waste is suspected, is still under sequestration while awaiting funding for decontamination.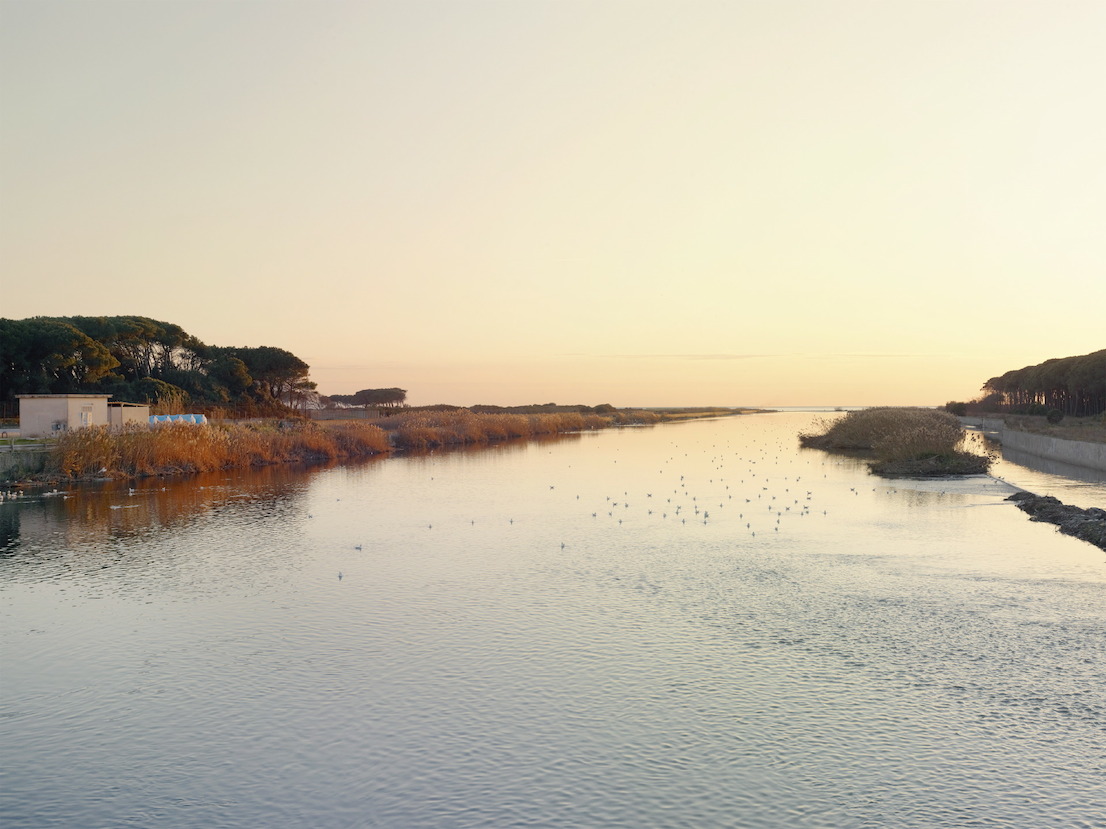 Foce dei Regi Lagni, Castelvolturno, Caserta, 2012. I Regi Lagni sono un fitto reticolo di canali artificiali che si estende su una superficie di oltre 1000 km², divisa principalmente tra le province di Napoli e Caserta. Pensati nel Seicento dai Borboni come sistema di irrigazione basato sulla raccolta delle acque del bacino idrico, grazie alla connivenza tra camorra e amministrazione pubblica si sono trasformati in un sistema di raccolta di acque inquinate sversate abusivamente nel canali. / Regi Lagni Estuary, Castelvolturno, Caserta, 2012. The Regi Lagni are a close network of artificial canals covering an area of over 1,000 square kilometres, mainly in the provinces of Naples and Caserta. Designed by the Bourbons in the seventeenth century as an irrigation system based on the drainage of the waters of the river basin, connivance between the Camorra and the local authorities has transformed it into a system to collect the polluted waters illegally discharged in the canals.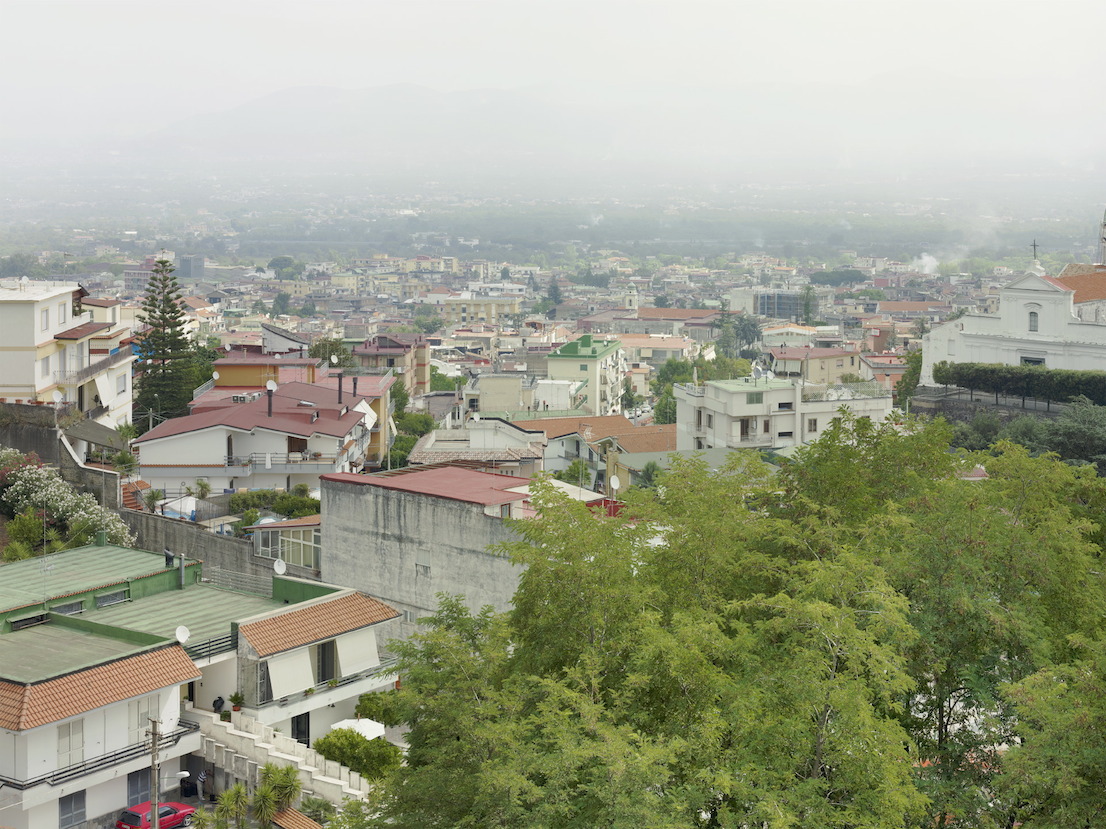 Veduta dal Castello Mediceo, Ottaviano, Napoli, 2012. Nel 1980 il boss Raffaele Cutolo compra il Castello Mediceo di Ottaviano, che diventa la sua residenza e il quartier generale della Nuova Camorra Organizzata. Il castello (detto anche Palazzo del Principe) è stato confiscato nel 1991 e dato in gestione al Comune di Ottaviano. Nel 2003 è diventato la sede del Parco Nazionale del Vesuvio. / View of Ottaviano from Castello Mediceo, 2012. In 1980, boss Raffaele Cutolo bought the Castello Mediceo in Ottaviano, which became his home and headquarters of the Nuova Camorra Organizzata. The castle (also known as Palazzo del Principe) was sequestered in 1991 and entrusted to the Municipality of Ottaviano. In 2003 it became the headquarters of the Vesuvius National Park.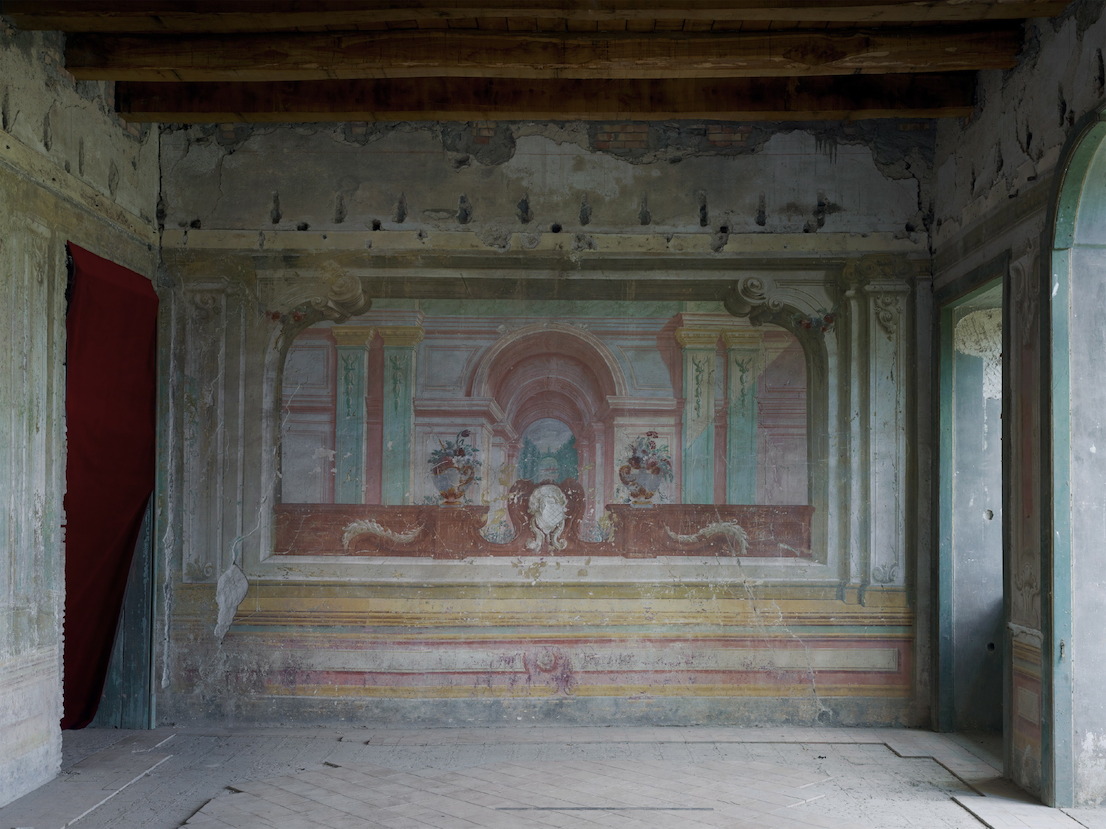 Salone del Castello Mediceo di Ottaviano, Napoli, 2012. Il castello ha circa 360 stanze. In queste stanze la sorella del boss Raffaele Cutolo, Rosetta Cutolo, teneva la contabilità delle estorsioni realizzate dai capozona e provvedeva ad assistere, legalmente ed economicamente, le famiglie dei carcerati. Inoltre, teneva un dettagliato elenco degli affiliati conservato in una nicchia scavata in una parete del castello e coperta da un quadro. / Hall of the Castello Mediceo in Ottaviano, Naples, 2012. The castle has around 360 rooms. In these rooms boss Raffaele Cutolo's sister, Rosetta, kept the accounts detailing the money extorted by the bosses of the various zones and arranged for legal and economic aid to the families of imprisoned members. She also kept a detailed list of members in a niche carved into one of the castle's walls and hidden by a painting.