Astley Castle, nuova edizione
Necessary #187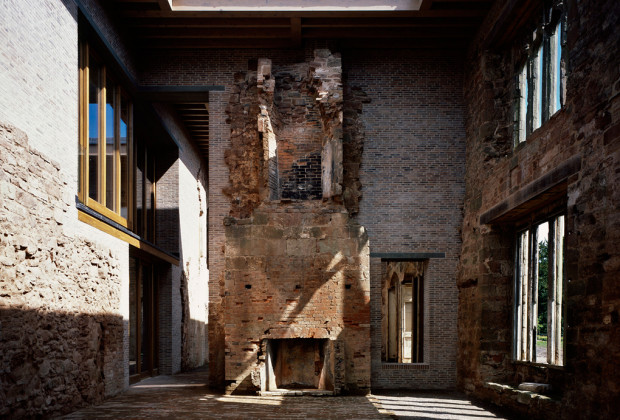 Una dimora contemporanea inserita tra i ruderi del castello di Astley (XII secolo), nella contea di Warwickshire, in Inghilterra. Progettata dallo studio Witherford Watson Mann, è una delle sei proposte finaliste per lo Stirling Prize 2013. Distrutto da un incendio nel 1970, il castello rischiava di restare in rovina per l'assenza di fondi da destinare al recupero. Nel 2007 l'associazione The Landmark Trust ha così indetto un concorso per una casa di vacanze, dando vita a una nuova costruzione che si aggancia ai resti della precedente conservando l'indipendenza di entrambe, grazie anche all'uso dei materiali, mattoni rossi e legno di rovere. Il risultato è tanto semplice quanto stupefacente.
/
A contemporary residence inserted among the ruins of Astley Castle (12th century), in the county of Warwickshire, England. Designed by the studio Witherford Watson Mann, it is one of the six proposals on the shortlist for the 2013 Stirling Prize . Destroyed by a fire in 1970, the castle ran the risk of remaining in a ruined state owing to the lack of funds for its restoration. In 2007 The Landmark Trust staged a competition for the creation of a vacation home, a new construction that could be coupled with the remains of the previous one while maintaining the independence of both, thanks in part to the use made of the materials, red brick and oak wood. The result is as stunning as it is simple.
Roberta Mutti